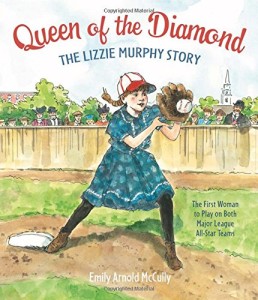 Queen of the Diamond: The Lizzie Murphy Story by Emily Arnold McCully. Farrar, Straus, and Giroux, 2015. 32 pages.
Reading Level:Picture Books, ages 8-10
Recommended for: ages 4-8, especially girls
Baseball is the all-American sport. And great picture book biographies of famous baseball players are in good supply. Understandably, many biographies of early baseball players feature men; after all, the vast majority of ball players were men. But a few pioneering women loved the sport, too, and played their hearts out. Lizzie Murphy helped her brother practice throwing and catching until she was as good as he was. Cleverly, she managed to get a spot on his team and proved her mettle. Eventually, she became the first player—man OR woman—to play for both the American and National League All-Star teams. Watercolor illustrations capture Lizzie's spunk and talent as her pigtails fly with her skirts. Text reveals the inequities Lizzie faced (not even getting paid when her male team members did!) even as it shows Lizzie's determination and talent. Back matter provides more information that is worth reading, too. Young baseball fans will enjoy hearing about Lizzie's story.
Cautions: none
Overall Rating: 4 (out of 5)
Worldview Rating: 3.75
Artistic Rating: 4.25
Categories: Picture Books, 4 stars and up, Nonfiction, Sports
Cover image from amazon

Support our writers and help keep Redeemed Reader ad-free.