Legends: The Best Players,Games, and Teams in Baseball by Howard Bryant. Philomel Press, 2015. 228 pages, including index.
Reading Level: Middle Grades, ages 10-12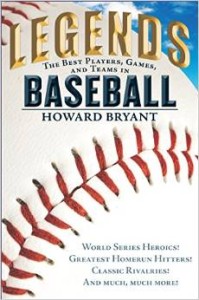 Recommended for: ages 10-14
Bottom Line: Legends is an enjoyable compendium of baseball's greatest players and games, written with the middle-grade reader in mind.
"This is not a perfect book," the author admits. "The best thing you, the reader, can do with it is disagree with it, debate it, change it, have fun with it" and come to your own conclusions about the greatest games, most valuable players, and most amazing plays in baseball history. The book offers a place for baseball fans to start and may even make a few fans along the way. Grown-ups like me who haven't paid much attention to the game will still enjoy being reminded about "the boys of summer," the greatest catch ever by Willie Mays, and what the McGuire/Sosa homerun competition was all about. As a senior writer and sports commentator for ESPN, the author knows his stuff.
Eighteen stories are divided into three seasons, Spring, Summer, and Fall, and each is followed by a Top Ten list: teams who moved to different cities, possible candidates for greatest pitcher of all time, fantastic finishes, players with "all the tools" (running, throwing, and hitting), and much more. It's a primer for beginning baseball fans and a fun browsing book for old hands. Even those of us who can take baseball or leave it alone will get a sense of why the game is so beloved and why, even in these days of flashy NFL and NBA players and games, it will never go away.
Cautions: None
Overall Rating: 4 (out of 5)
Worldview Rating: 4
Artistic Rating: 4
Categories: Nonfiction, Sports, Middle Grades
Cover image from Amazon