*God's Word by Sally Michael, illustrated by Fred Apps. P&R, 2015. 128 pages.
– a joint review from Megan and Betsy

Reading Level: Middle Grades, ages 8-10
Recommended For: ages 4-8, ages 8-10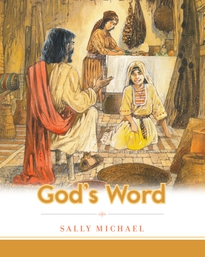 With a marvelously engaging style, Sally Michael lays out the greatness and significance of God's Word, the Bible. Ever pointing to God as the source and subject, she demonstrates the uniqueness of the Bible's origin and message:
 "The greatest message in the Bible is the message of who God is." (p.46)
This is part of a series of quality family devotionals (Making Him Known), as well as others in a similar format (God's Names, God's Promises, etc.) that are intended to be read by parents to their children. Michael introduces young readers in warm, clear language to a range of theological concepts surrounding God, his Word, and the need of her audience for a Savior, as well as how they can read God's Word thoughtfully and pray to know him better.
The guide begins with foundational information about what the Bible is (a message from God), who the Bible is for (everyone), and what the Bible is about (God). From there, Michael breaks the Bible's message down into subsections (moving beautifully through the gospel message simultaneously). Other lessons include being doers as well as hearers of the Word and the Bible as a treasure.
The illustrations by Fred Apps are nicely done. There are a few pictures of Jesus, but all from the back or at an angle.
Applying her experience writing Sunday school curriculum for Children Desiring God, Michael makes this family devotional a pleasure to read. It is full of Scriptural evidence as well as creative illustrations that range from simple knowledge of the sun to making pudding.
A practical application at the end of each lesson includes further Scripture readings and discussion questions, as well as a relevant, appealing activity leading to prayer and praise. The constant focus is on God, his greatness and glory, rather than a child-centered "how you ought to be a nicer person."
From a thorough examination of the Bible's message to its power, authority, and use, both readers and listeners cannot help being drawn to love God's Word and long for a deeper knowledge of God himself.
Amazon currently has a limited number of God's Word in stock, but it can also be purchased from the publisher here. Other titles in the Making Him Known series are available from Amazon.
Cautions: none
Overall Rating: 5 (out of 5)  
Worldview Rating: 5
Artistic Rating: 5
Categories: Starred Review, Christian, Devotionals, Christianity
Cover image from Amazon
A copy of this book received from the publisher  for a fair review.
*indicates starred review

More than 75 books for children and teens, all about islands, oceans, and more. Bonus: get a free hand-drawn reading tracker!
Reading Ahead for You
Reviews and Resources Weekly in Your Inbox