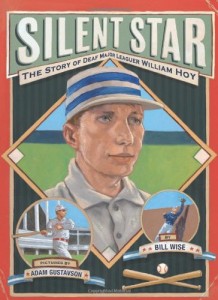 Silent Star: The Story of Deaf Major Leaguer William Hoy by Bill Wise, illustrated by Adam Gustavson. Lee and Low, 2012. 40 pages.
Reading Level: Picture Books, ages 8-10
Baseball games are full of distinctive sounds: the crack as the ball and bat make contact, the roar of the crowd, the umpire's "Strike!" Imagine if a professional baseball player was deaf, couldn't hear these sounds at all? William Hoy was such a player—one of the first professional deaf baseball players ever. His deafness was noteworthy, but so were his baseball stats; he is still in the top 25 players of all time in several areas more than hundred years later. What really sets Hoy's story apart is his dedication to his sport and his determination to work hard despite the significant hurdles he faced, both in his personal life and in his sport. The text in this book runs a touch wordy on occasion, but the illustrations are terrific, and the underlying reminder to persevere no matter where the Lord puts you is worth reading.
Cautions: none
Overall Rating: 4 (out of 5)
Worldview Rating: 4.25
Artistic Rating: 3.75
Categories: Picture Books, Nonfiction, Character Values, Life Issues, Sports
Cover image from Amazon

More than 75 books for children and teens, all about islands, oceans, and more. Bonus: get a free hand-drawn reading tracker!
Reading Ahead for You
Reviews and Resources Weekly in Your Inbox