Chasing Lincoln's Killer by James L. Swanson. Scholastic Press, 2009. 194 pages.
Reading Level: Middle Grades, ages 10-12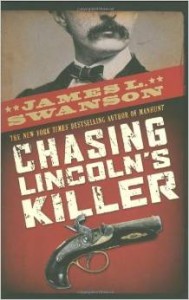 Recommended for: ages 10-14
Bottom Line: The young reader's version of the author's best-selling Manhunt offers all the drama of Lincoln's assassination and the ensuing search for John Wilkes Booth.
One hundred and fifty years ago, on April 14, 1865, Abraham Lincoln was fatally shot while attending a play at Ford's Theater. One hundred forty-four years later, a book titled Manhunt: The 12-Day Chase to Catch Lincoln's Killer topped the bestseller lists for months, with talk of a movie adaptation. It's easy to see why: the story is inherently dramatic even without the theatrical propensities of the chief perpetrator. For an iconic figure, already hailed as the savior of his country, to be struck down less than a week after the end of the four-year conflict that ravaged the nation—on Good Friday, no less—was a coincidence no self-respecting novelist would touch. But the follow-up events are equally fascinating, as Manhunt proved. Chasing Lincoln's Killers is the juvenile version of the author's best-seller.
Though the narrative focuses on John Wilkes Booth and his co-conspirators, the assassination itself gets full coverage with all its dread and pathos. Booth was either a deranged individual or consummate actor who lost himself in the part, and everyone associated with him was dragged down to similar depths. The author doesn't explore motives much, possibly because they can't be known. The eerie coincidences and missed opportunities that followed the assassination (and the assassination attempt on the Secretary of State) read like a comedy of errors at times. Though tragic, the story is riveting and told as well for this age level as it can be, though the inclusion of profanity (quoted from the original players) is unfortunate. An abundance of sepia-toned photographs and document facsimiles accompany the text. Also by this author: The President Has Been Shot!: The Assassination of John F. Kennedy
Cautions: Language (four instances of quoted profanity), Violence (some graphic crime-scene details)
Overall Rating: 3.75 (out of 5)
Worldview Rating: 3.5
Artistic Rating: 4
Categories: Nonfiction, American History, Middle Grades
Cover image by Amazon

Please follow and like us: