*ESV Following Jesus Bible. Crossway, 2015. 1401 pages
Reading Level: Middle Grades, ages 10-12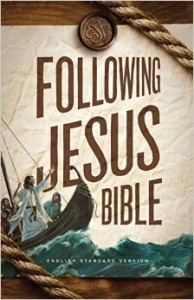 Recommended for: ages 10-14
Bottom Line: The features of Following Jesus Bible point young readers to the presence of Christ in all scripture in a way that's accessible to middle grades.
In recent years, much welcome attention has been paid to the obvious fact that the Bible is all about Jesus. At least it seems obvious to those of us who enthusiastically read The Jesus Storybook Bible to our children or grandchildren. Following Jesus, an ESV edition from Crossway, trails behind the NIV Jesus Bible from Zondervan but carries the theme just a little farther.
Many of the features are standard: maps, glossary, and a kid-friendly weights-and-measures table at the back; book introductions and 5-W questions scattered throughout the text. The standout features of this particular Bible are "Seeing Jesus" and "Following Jesus." The former looks closely at particular passages, such as (choosing at random) Psalm 118:25-26: "Blessed it he who comes in the name of the Lord!" The feature text points to John 12 and Palm Sunday with an explanation of what Hosanna means. The "Following Jesus" feature makes personal applications to the reader, often through specific passages like each one of the Ten Commandments and each petition of the Lord's Prayer. These are insightful and appropriate to the age level—though it would have been helpful to include an index of all of them. The in-text features are all located at the bottom of the page, which seems better than scattering them at the sides, top, and everywhere else—at the bottom they distract less from the Bible itself. Besides individual book introductions, there are also introductions to book groups (Moses, History, Poetry, etc.) that provide more insight on how these sections of scripture are related to Christ.
As is common with the ESV, articles on specific topics are included, though these "articles" (e.g., What Is the Law? What Is the Gospel? Where Did We Get the Apostles' Creed?) are actually short explanations with scripture proof texts. This seems about right for middle-graders, most of whom aren't ready to tackle complex theological topics. For parents concerned about pictures of Jesus, even though this Bible contains no full-page illustrations, Jesus is pictured several times, as smaller realistic illustrations are incorporated in the features and book introductions. The font is just a little smaller than the ESV Seek and Find and Children's Bibles, which leads me to think it's for a slightly older audience.
Overall Rating: 5 (out of 5)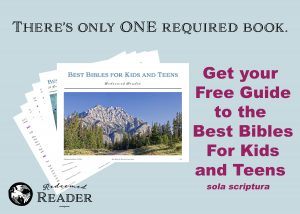 Readers, this is one of our top recommendations for children's Bibles. To see more, get your FREE Guide to the Best Bibles for Children and Teens!
More than 75 books for children and teens, all about islands, oceans, and more. Bonus: get a free hand-drawn reading tracker!
Reading Ahead for You
Reviews and Resources Weekly in Your Inbox