The Distance Between Lost and Found by Kathryn Holmes. HarperTeen, 2015. 306 pages.
Reading Level: Young Adults, ages 12-15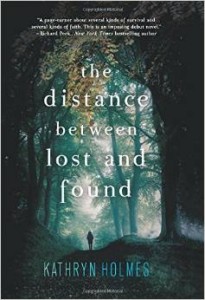 Recommended for: ages 15-18
Bottom Line: This YA survival story offers thrilling outdoor adventure and relevant questions about faith but doesn't quite close the circle.
Hallelujah Joy Calhoun, 17, isn't super-religious, as everyone guesses, but her parents are—hence the name, which only became a burden when her life took a sharp turn for the worse. That's mostly because of Luke, the pastor's studly son, and a certain incident that occurred the previous fall. Since then, she's become a pariah in the church youth group, even though the youth leaders have encouraged her to return after a period of being grounded. But Luke is keeping the story alive, and all her former friends have rejected her—even Jonah, with whom Hallie shared favorite songs and movies. Her parents don't understand, and the only friend who might have helped has moved to another state and now can only encourage Hallie by email to get over herself. That's the setup when the youth group packs up for a weekend hike and camping trip in the Smoky Mountains. The group includes a new girl, Rachel, who is looking to make some new friends after her parents' divorce, but Hallie isn't feeling friendly.
Partway into the hike, a mean trick from Luke pushes Hallie to the point of turning back. Rachel decides to join her, and Jonah goes along to make sure they're okay. They're okay until they turn onto the wrong trail, and a sudden violent rainstorm washes out even that. Then Hallie sprains her ankle, and before long the three have reason to fear for their lives.
It's a survival story and a nature tale and a romance, but also a metaphysical outing centered around the question Where is God? He has seemed very distant from Hallie since her world turned against her—and barely relevant to Jonah, and Rachel has decided he doesn't exist. But even though the mountains are treacherous, they seem to bespeak a certain presence:
The rain has stopped to a gentle drizzle. The sun is peeking out from behind a cloud. The world is misty and surreal. Once again Hallie is overwhelmed with how beautiful it is. All of it.
The mountains also rebuke her smallness, revealing how she's cut people off, rejected good counsel, and allowed Luke to control her. The god eventually evoked, though, is one who can't be known, only guessed at, and his providence remains mysterious. "What if," Hallie says slowly, "whether or not we feel God, we're where we're supposed to be? Every step of the way, we ended up where we needed to be." There's a plan, in other words, but we can't know what it is. The name of Jesus is mentioned only twice, once in mockery and another time as an expression of disbelief. The Distance Between Lost and Found charts an intriguing journey of faith that is often touching and sometimes luminous, but ultimately unsatisfying.
Cautions: Sensuality, Language (some misuse of God's name—no cursing, though)
Overall Rating: 3.5 (out of 5)
Worldview Rating: 3.5
Artistic Rating: 4
Categories: Realistic Fiction, Young Adult, Religion, Life Issues
Cover image from Amazon

More than 75 books for children and teens, all about islands, oceans, and more. Bonus: get a free hand-drawn reading tracker!
Reading Ahead for You
Reviews and Resources Weekly in Your Inbox