*Last Stop on Market Street by Matt de la Pena and Christian Robinson. G.P. Putnam's Sons Books for Young Readers, 2015. 32 Pages.
Reading Level: Picture Books, Ages 4-8
Recommended For: Ages 4-8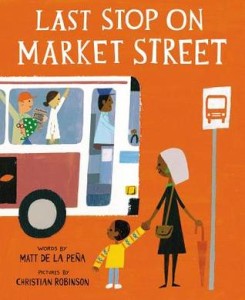 CJ and his Grandma leave church and board a bus in the rain, but they are not going home. A typical child, CJ is full of questions and his Nana is wise in responding why they don't have a car, why they have to go where they are going, why people are the way they are, and why he doesn't need everything he wishes for. Nana is an extraordinary woman. She counters complaints with cheerful courage and sets a courteous example for her grandson to follow as they interact with acquaintances and strangers alike. Her perspective on the world is beautiful and full of humility.
"Sometimes when you're surrounded by dirt, CJ, you're a better witness for what's beautiful."
Although no spiritual motive for their journey is mentioned, it would be well for the reader to remember from whence CJ and Nana began when they reach their destination. The text is simple and straightforward, and not a word is wasted. The cheerful illustrations, which are reminiscent of Ezra Jack Keats's A Snowy Day, show diversity and carry broad audience appeal.
This sweet story of contentment, kindness, generosity, demonstrates the importance of relationships, courtesy, and serving others. Definitely recommended.
Cautions: none
Overall Rating: 5 out of 5
Worldview Rating: 4.5 out of 5
Artistic Rating: 5 out of 5
Categories: picture books, starred review, multicultural, character values
Cover image from (goodreads).
*indicates starred review
Support our writers and help keep Redeemed Reader ad-free.