The Action Bible Study Bible ESV, edited by Catherine deVries, illustrated by Sergio Cariello. David C. Cook, 2015. 1248 pages.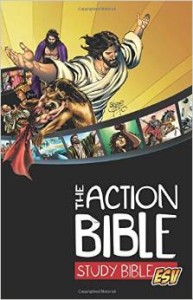 Reading Level: Middle Grades, ages 10-12
Recommended for: ages 9-13
Bottom Line: The ESV study version of the successful Action Bible features a reliable translation, dramatic illustrations, and standard text notes.
The phenomenally successful Action Bible (actually a storybook), which debuted in 2010, has generated an entire franchise, including a devotional guide and a handbook. Now, finally, an actual Bible with the complete text in the English Standard Version. A study Bible based on a comic book format may cause parents to scratch their heads, but between the dazzle of the glossy inserts are features that we have come to recognize in most children's Bibles. The one-page book introductions are concise and attractive, providing a summary of the book's contents with a view to fitting it into the master narrative. The intros also list major characters and key words, plus a "fun fact" or two. Text features include "What About This?" (challenging questions from believers and unbelievers), "Unlock It!" (historical and doctrinal notes), "Guess it!" (riddles about characters), "Activate" (devotional and application notes), and "Ancient Archives" (facts about Bible places and objects). Black and white illustrations are scattered through the text, but passages marked with an "AB" icon receive the full-color Sergio Cariello treatment (see our interview!). Forty glossy pages are scattered throughout the volume, and most, if not all, of the art is new.
As in the Action Bible, some of the illustrations may not completely jibe with your memory of the story. The creation pages here, for instance, depict the incarnate Christ creating all there is, which may be too free an interpretation of Colossians 1:17. (There's no question that Christ was the creative agent, but we don't know exactly how, and I'm pretty sure he wasn't in his glorified body at the time.) Some of the application notes may need to be taken judiciously, but that's true of most study Bibles, especially those directed at kids. In practical terms, this might be a good choice for a fourth- or fifth-grader who's ready to move on to the actual text (or at least the parents think so). If you plan on using the ESV with your kids on into their teen years, this might be a good way to introduce it. Whether the youngster will tote this Bible all the way into his teens is another question that parents might like to ask before putting down $25-35, plus shipping.
Overall Rating: 4 (out of 5)
Categories: Middle Grades, Christian, Bibles and Bible Stories
Cover image from amazon.com