Guys Life Application Study Bible NLT. Tyndale House, 2013 (second edition). 1562 pages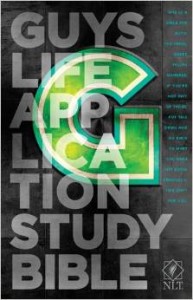 Reading Level: Middle Grades, ages 8-10
Recommended for: ages 8-14
Bottom Line: The Guys Life Application Study Bible offers a readable translation and unique features to interest boys, though parents may find added material subjective.
The NLT has overtaken the NIV as the most popular modern English translation.  It's not considered the most accurate—in a balance between literal translation and readable style, the NLT leans toward the latter, which is understandable since it evolved from Ken Taylor's Living Bible paraphrase of the late sixties. Still, it is an actual translation, not a paraphrase, and though some Christian scholars have qualms about the "gushiness" of some of the renderings, the NLT is accurate enough to get the Bible story and God's plan for salvation. It's also easier to comprehend, at a 5th grade reading level, than the ESV (8th grade) or the NKJV (middle 8th grade).  For more on the NLV, go here and scroll down.
Billed as a "life-application" (devotional) and "study" Bible, Guys tries to bridge the gap between personal growth and intellectual understanding. The balance is definitely in favor of personal growth, and much of the added material leans toward the subjective–personal testimonies and stories.  Whether this is necessary to maintain a boy's interest is something his parents need to decide. The contents pages list books in traditional and alphabetical order and a subject index covers several pages of subjects (with scriptural references) that boys confront every day: Abilities, Enthusiasm, Failure, Peer Pressure, Blame, Television; as well as tougher issues like Depression, Prison, and Divorce. Book introductions take up only half a page with Who-What-When-Why facts and a timeline. The text is a little too crowded with sidebars, at least one on every page, including "What Now?" (applications based on contemporary scenarios), "I Survived" (testimonies from slightly older kids who dealt with tough situations), "Is It Okay?" questions about gray areas and common temptations, and Memory Verses keyed to life situations.  The advice given seems sound and generally biblical, though parents will want to keep an eye on the "Is It Okay?" and "I Survived" sidebars, in case they have something to add.  The "I'm Not the Only One" sidebars address the gawkiness most boys feel at this age: humorous stories of awkward moments experienced by the contributors.
Rather than character sketches, "Freeze Frame" sidebars throughout the text offer first-person perspectives from Bible characters—Isaac on his way up Mt. Moriah, for instance. This is different, and while it infers a lot about the person's thoughts and motives, it might be effective for getting a young reader thinking about the Bible as true stories about real people. The maps are great: detailed, physical representations of terrain and cities, most on double-page spreads. Full-color inserts offer historical information about stuff guys are often interested in: battles and weapons, occupations, places and transportation, kings. There are no illustrations of Bible stories and thus no pictures of Jesus.
Overall rating: 3.5 (out of 5)
Categories: Middle Grades, Christian, Bibles and Bible Stories
Cover image from amazon.com
Please follow and like us: