God's Little Princess Holy Bible, NKJV. Sheila Walsh, ed. Thomas Nelson, 2014. 1216 pages.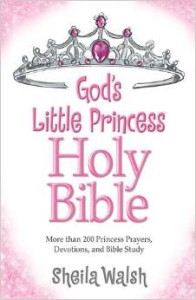 Reading Level: Middle Grades, 8-10 (study material), Middle Grades, 10-12 (text)
Recommended For: ages 7-11 (girls, of course!)
Bottom Line: The God's Little Princess Bible boasts more crowns than the Tower of London, but even hardcore princess fanatics will soon outgrow it.
Not to be confused with the God's Little Princess Devotional Bible—this is the actual Bible text, with Sheila Walsh's commentary scattered throughout. God's Little Princess (accompanied by the blue version, God's Mighty Warrior*) is becoming quite a franchise, with picture books, devotional guides, and pink, pink, PINK! (Sequins included.) That makes me just a little queasy, but the Devotional Bible is doctrinally sound and worthwhile if you have a little girl who thinks pink. The "real" Little Princess Bible contains the same kind of material as the devotional and occasionally feels a bit recycled. All the in-text features are on color glossy page inserts—no sidebars or boxes. As one who often finds sidebars distracting, I appreciate this.  The features include Bible Jewels (great truths everyone should know), Regal Relationships (getting along with family, friends—and God most of all!), Kingdom Living (life applications), Kingdom Highlights (facts and history tidbits), Wise Words (memory verses), and Noble Characters. The latter are 13 Bible characters, mostly women, who transition to greater faith. For example: "Hannah, from Sad to Glad"; "Deborah, from Daughter to Leader"; "The Woman Who Washed Jesus' Feet, from Disappointment to Hope."
The font is 8 point, meaning the book is more compact than most kids' Bibles but also might be harder on very young eyes. The added material is virtuous, but even if your little girl is a serious princess aficionado, she'll outgrow this Bible by the time she's 11. The translation (NKJV) will last far longer than the trappings; it might be wise to give an eight-year-old the Princess Devotional Bible instead and wait to get a less sparkly Bible that will last into her teens.
*The God's Mighty Warrior Bible doesn't seem to be available yet.
Overall Rating: 3.5 (out of 5)
Categories: Middle Grades, Christian, Bibles, Bible Stories
Cover image from amazon.com

Support our writers and help keep Redeemed Reader ad-free.