God Girl Bible ESV and God Guy Bible ESV edited by Michael and Hayley DiMarco. Crossway, 2014 (latest edition). 1488 pages.
Reading Level: ages 12-14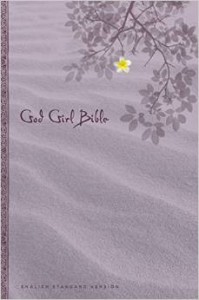 Recommended for: ages 12-14 and up
Bottom Line: God Girl and God Guy, ESV Bibles for young adults, include devotional features of unusual depth.
The difference between the girl and guy versions of this Bible is only a matter of design and coloring; the content is almost exactly the same. Editors are Michael and Hayley DiMarco, founders and owners of Hungry Planet media. Hayley is named as the writer of the supplementary material for God Girl and Michael writer for God Guy; since these are the same in both editions, I assume they worked together on both. I'm not sure of the reason for gender-specific Bibles at this age since the appeal in this case seems to be mostly aesthetic. But that said, the added features are very good overall.
This is a devotional Bible, meaning there won't be a lot of academic material about dates and times and places and doctrine. Each book starts off with a two-page introduction, giving author, audience, purpose, and highlights of the book; also key terms and verses, things to look for, and the book's relevance for the reader. The in-text features (sidebars and boxes) include "Know This" devotionals focusing on the relationship between God and the reader, and "Ask Yourself" application questions. I like the question format because it encourages the reader to think for herself rather than being told what to think. "Girl Girl Stories" spotlight female characters in the text (obviously, that feature is different in the guys' version). Prayers scattered throughout the text are adapted from The Valley of Vision and other Puritan writers—an excellent aid to devotion and one I haven't seen in any other Bible marketed to teens.
The appendix consists of a glossary, a subject index, and five Bible reading plans. No maps! In my opinion, Bibles should also include maps, but I'll award extra points for the "Spiritual Self-Check": a list of sins that often beset young people—some, like gossip and envy, less obvious than others. The highly-regarded translation and meatiness of the supplementary material make this a Bible teens can carry into college and their early-adult years.
Overall Rating: 4.5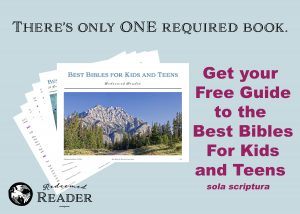 Readers, this is one of our top recommendations for children's Bibles. To see more, get your FREE Guide to the Best Bibles for Children and Teens!
Cover image from Amazon
    
More than 75 books for children and teens, all about islands, oceans, and more. Bonus: get a free hand-drawn reading tracker!
Reading Ahead for You
Reviews and Resources Weekly in Your Inbox