An Uncertain Choice by Jody Hedlund. Zondervan, 2015. 249 pages.
Reading Level: Young Adult, ages 15 – 18
Maturity Level: 6 (ages 15 – 18) and up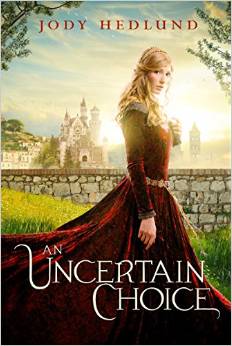 Bottom Line: A beautiful maiden, an unbreakable vow, a mysterious sickness, and a sudden change of events are all parts of Jody Hedlund's Christian historical romance.
Lady Rosemarie Montefort is content to enter a nunnery when she turns eighteen, in fulfillment of her late parents' vow.  A sweet girl, she cares for her people and governs them with the aid of the local abbot.  Though troubled by her sheriff's apparent insubordination in matters of torture, Rosemarie is certain that matters will correct themselves once she is 18.
Then Rosemarie's long absent guardian arrives with startling news.  There is another part to her parents' vow that allows Rosemarie to marry … but only if she can find true love and wed before her eighteenth birthday.  Three candidates, each ravishingly handsome, petition for Rosemarie's hand, leaving her both gratified and torn.  How will she know if she is experiencing true love?  What is God's will, and what will be best for her people?
While historical fiction aficionados will find this novel light on history, fans of Christian romances should appreciate this clean, though rather predictable, medieval romance.
Cautions: none
Overall Value: 3.75 (out of 5)
Moral/worldview value: 4
Artistic value: 3.5
A copy of this book was received from the publisher for an fair review.
Cover image from Amazon

Please follow and like us: