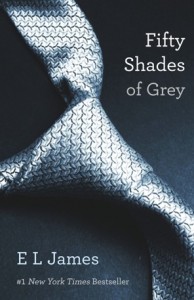 (This interview was originally published Aug 8, 2012.  We are republishing today in preparation for the movie's release Valentine's Day weekend 2015.)
Fifty Shades of Grey by E. L. James is the first in a trilogy of novels labeled erotica by its publisher Random House. The novels were released in 2011 and besides topping the New York Times bestseller list for some time now, they are so popular that one British hotel has replaced the Bible with them in their rooms.
If you're wondering why a kids' book blog like ours is tackling the story, it's because teenagers are reading them too.  I spoke with one 17-year-old who told me a lot of her friends were reading them, so these are books that are impacting huge portions of society.
If you aren't familiar with the books, what makes them unusual is the extent to which painful and forbidden sexual practices are described in graphic detail.  As the Fifty Shades of Grey Wikipedia page summarizes, "Set largely in Seattle, it is the first instalment in a trilogy that traces the deepening relationship between a college graduate, Anastasia Steele, and a young business magnate, Christian Grey. It is notable for its explicitly erotic scenes featuring elements of sexual practices involving bondage/discipline, dominance/submission, sadism/masochism (BDSM)."  It isn't only glorifying these practices–to some extent, both characters see these proclivities as awful stumbling blocks to a real, loving relationship.  But the book is still a new low in both literary quality and pornographic content.
Yesterday, we heard from Tim Challies who helped us think through the stories in light of Biblical truth and gospel freedom.  Today, we've put together a podcast of some thoughtful women seeking to understand this phenomenon and how it's changing our cultural landscape.  Here are the voices you'll here below:
Janie Cheaney, Senior Writer for WORLD Magazine and author of four novels for middle readers, is a cultural critic and co-proprietor of Redeemedreader.com.
Emily Whitten, a former children's book editor, homeschool mom, and co-proprietor of Redeemedreader.com, writes movie reviews for WORLD Magazine and articles on book news at Worldmag.com.
THE ROUNDTABLE
[powerpress]
Watch for our book review of the first Fifty Shades book next week, as well as a discussion of helpful resources.  You can browse our best picks on developing sexual integrity in your teens here.  Or read our interview with Tim Challies for Biblical wisdom on the Fifty Shades phenomenon.
And if you're new to Redeemedreader, keep up with our 50 Shades coverage and more by liking our Facebook page or sign up for our newsletter in the upper right-hand corner of the homepage. 
Reading Ahead for You
Reviews and Resources Weekly in Your Inbox