Yoo-Hoo, Ladybug! by Mem Fox, illustrated by Laura Ljungkvist. Beach Lane Books, 2013. 32 pages.
Reading Level: Picture Books, ages 0-4
Maturity Level: 1 (ages 0-4)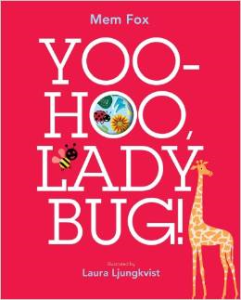 Little children love rhymes and repetition and hiding games like peekaboo and "I spy." In a rare combination of all these elements, Yoo-Hoo, Ladybug! has irresistible charm.
Young children will love playing hide-and-seek with Ladybug who hides in familiar locations: the bathtub, the stairs, and the toy room. Like a little child, Ladybug tends to hide with part of her sticking out so she is easy to find. If you pause just a moment before reading the refrain ("Yoo-hoo, Ladybug, where are you?"), the child will quickly learn to jump in.
The brightly colored digital collage illustrations add uniqueness to the game. It's a fun book, likely to become a favorite.
Cautions: none
Overall Value: 4.25 (out of 5)
Moral/worldview value: 4
Artistic value: 4.5
Categories: Picture Books, Interactive, Gift Books
Cover image from Amazon

Please follow and like us: