The Accidental Highwayman by Ben Tripp.  Tor, 2014. 295 pages.
Reading Level: Young Adults, ages 12-15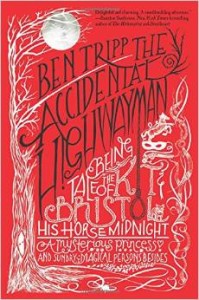 Maturity Level: 5 (ages 12-14) and up
Bottom Line: The Accidental Highwayman plunges the reader into 18th-century Britain on a wild, fun ride through its magical subtext.
Here's the subtitle: Being the Tale of KIT BRISTOL, His Horse MIDNIGHT, a Mysterious Princess, and Sundry MAGICAL PERSONS Besides.  That should give you an idea of both plot and style.  The style takes off from Joseph Fielding's Tom Jones, one of the earliest novels in English, but without Tom's bawdy adventures.  Kit is an altogether different kettle of fish: though he knows not his progenitors and his early years were spent among traveling carnival folk, he himself is sweet-natured and more grateful than not for his present condition, boring as it is.  He's the servant of Master James Rattle, a down-at-heels gentleman who lives in a crumbling manse and is gone a lot in the evenings.  Kit discovers the truth just before the master's demise: James Rattle is in fact Whistling Jack, a notorious highwayman.  And the King's Men, led by the vindictive Captain Sterne, are at the door ready to apprehend anyone associated with him.  Kit makes his escape on his master's magnificent horse Midnight and finds himself bound to carry out Whistling Jack's final mission: to rescue a mysterious lady in a silver coach.  The lady turns out to be Princess Morgana of the Faeries, pledged by her father to wed the Hanoverian prince who will become George III.  Understandably, she doesn't want to so conducting the princess to safety, escaping Sterne and the evil Duchess of the Red Sea, and getting Morgana to fall in love with him comprise the business of the plot.
Although Kit indulges in some deep thoughts about magic, science, and fate, the novel is more for entertainment than depth.  Narrated in a lightly 18-century style, it conveys the reader to a reasonably authentic 18th-century milieu, except for the magic.  Magical elements are not too objectionable as long as we understand they're not to be taken too seriously—same for the romantic element, which is confined to words only (among the Faeries, a kiss is tantamount to a marriage ceremony).  Kit's narrative voice is one of a kind: When I say this woman was ugly, I mean she could have knocked the eyes out of a potato.  His conclusion about the secret of life I would argue with: The heart is wiser than the head.  Perhaps it is for a 17-year-old.  But silliness aside, Kit is a likeable young hero and good company for the journey.
Cautions: Supernatural (witches and other magical beings)
Overall value: 3.75 (out of 5)
Worldview/moral value: 3.5
Artistic value: 4
Categories: Historical Fiction, Young Adult, Fantasy, Adventure
Cover image from Amazon

Reading Ahead for You
Reviews and Resources Weekly in Your Inbox