*Rise: Get Up and Live in God's Great Story by Trip Lee.  Thomas Nelson, 2014.  240 pages.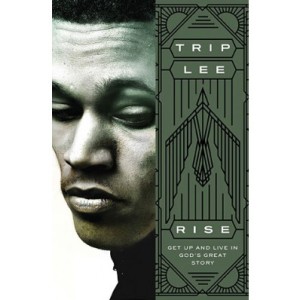 Reading Level: Young Adults, ages 12-15 and up
Maturity Level: 4 (ages 11-12) and up
Bottom Line: Trip Lee's Rise is a gospel-based, conversational book set to a hip-hop album soundtrack in which Lee challenges young adults to rise above low expectations and "get up and live" for God's glory.
Early in this book, Lee shares a conversation he had as a teenager with an adult in his community.  When Lee told the man about his plans to follow God no matter the sacrifice, the man asked him in essence, "Can't you do that later?  Why not live it up now, before real life begins?"
This is just the sort of thinking that Lee takes on, both in his book and the hip hop album by the same name. As a 26-year-old father, rapper, and pastor, Trip Lee hopes Rise will encourage teens and young adults to rise above such low expectations and "get up and live" for God's glory.  For Lee, that means actively pursuing sexual purity, spending your time wisely, and most of all, clinging to God's Word instead of letting the world define who you are and what God can do with your life.
Young adults with an ear for hip-hop culture may find this book-with-a-soundtrack a dynamic package.
Cautions: none
Overall Value: 4.5 (out of 5)
Moral/worldview value: 5
Artistic value: 4
Categories: Young Adults, Adults, Nonfiction, Multicultural, Music, Christian
A free copy of this book was received from Thomas Nelson for a fair review.
Cover image from Thomas Nelson
    
Reading Ahead for You
Reviews and Resources Weekly in Your Inbox