Happy New Year!
The Lord has blessed each of us on the Redeemed Reader staff—and our site as well—in 2014. We are excited to see what He will bring our way and do through us this coming year. We are humbled by His faithfulness and goodness to us, and we pray that He is using our efforts here at Redeemed Reader to bless you, our faithful readers.
It's that time of year again: What are you resolving to do this year? Are you making any literary goals for 2015? Perhaps to read the Bible through this year? (For some great Bible reading plans, look here).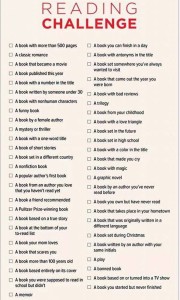 Perhaps you are planning to read a certain number of books this year. Perhaps there is one book—or series—that everyone tells you to read, but you still haven't found the time. Read on for some personal favorites of the Redeemed Reader staff as well as some surprising literary confessions from this group of professional readers. We enjoyed seeing where our lists overlapped and gasping in shock at the titles some of us still haven't read! All of us will protest that these are merely the top five titles that came to mind this month; our favorites lists ebb and flow constantly, and these are by no means mandatory reading. May you be encouraged that reading is indeed a very personal pursuit: worth doing, to be sure, but also worth realizing that people are individuals in different times and places and with particular tastes and abilities. Enjoy!
Names in alphabetical order
Betsy's Top Five (in no particular order):
Charlotte's Web
The Lion, the Witch, and the Wardrobe (and others in the series)
Any of Jane Austen's novels
Little Women
To Kill a Mockingbird
Confession: Betsy still has not read Jane Eyre.
Christie's Top Five (in no particular order):
All the King's Men
Kristin Lavransdatter trilogy by Sigrid Undset
Anything by Jane Austen
Communion with God by John Owen
Harry Potter Series
Confession: Despite recommending the series enthusiastically, Christie still has not finished the Aubrey-Maturin series by Patrick O'Brian.
Emily's Top Five (in no particular order):
Anne of Green Gables
Diary of Anne Frank
To Kill a Mockingbird
Morning and Evening by Spurgeon
Flannery O'Connor's Revelation
Confession: Emily has still not read the Narnia books!
Hayley's Top Five (in no particular order):
Anything by Jane Austen (although Mansfield Park is her least favorite)
Tale of Two Cities
To Kill a Mockingbird
The Hobbit and The Lord of the Rings
Anything by P. G. Wodehouse
Confession: Hayley has still not read The Adventures of Huckleberry Finn!
Janie's Top Five: Top five—can't do it. I can list my favorites but that doesn't mean everyone should read them. It's not just that reading tastes are so personal but also that reading needs are personal, and what I get from a book is not what anyone else will. That said, here's the one book everyone should read: the Bible (of course!).
Confession: Janie has still not read the Lord of the Rings trilogy!
Megan's Top Five (in no particular order):
Stepping Heavenward
Till We Have Faces
The Hiding Place
The Queen's Thief
Frances the Badger series
Confession: Megan has still never finished the Anne of Green Gables books!
So, what are some of your favorites?  Any confessions you need to make?
Please follow and like us: