Hymns for a Kid's Heart, Vol. 1-4 by Bobbie Wolgemuth and Joni Eareckson Tada. Crossway, 2003-2004. 96 pages. (Audio CD included)
Reading Level: Middle Grades, ages 8-10
Maturity Level: All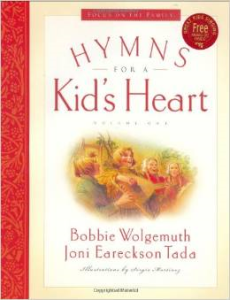 A child who is becoming familiar with great hymns such as "Holy, Holy, Holy" and "Amazing Grace" may be blessed by delving deeper into the history of the hymn. Who wrote it? Why? When? How does this apply to me?
Wolgemuth introduces each of twelve great hymns with a brief biography of the author (or another significant individual in the history of the hymn), followed by a devotional written by Joni Eareckson Tada about the joy she finds in that particular hymn. The words and music to the hymn are provided with references to definitions of unusual words as well as a Scripture reference and appropriate prayer.
This is a nice resource to consider using in family devotions for learning a hymn a month over the course of a year. See also our review of the Christmas volume here.
(Note: Although only the Christmas volume is currently in print, there are some used copies of the others available on Amazon, and they are worth watching for at booksales.)
Cautions: none
Overall Value: 4.5 (out of 5)
Moral/worldview value: 5
Artistic value: 4
Categories: Nonfiction, Auto/biography, Christian, Devotionals, Church History
Cover image from Amazon

Support our writers and help keep Redeemed Reader ad-free.