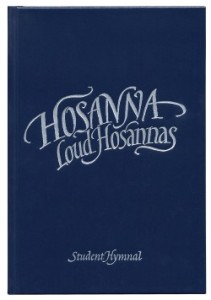 *Hosanna, Loud Hosannas: Essential Hymns Every Child Should Sing compiled and written by Barbara and David Leeman, 2014. 300 pages.
Reading Level: Middle Grades, ages 8-12
Maturity Level: All
Part hymnal, part textbook, and part devotional, Hosanna, Loud Hosannas is a beautiful, excellent resource for Christians of all ages although it is designed for children in first through eighth grades. Organized into three major sections (church calendar, attributes of God, and our response), the 115 hymns include old and new tunes that many will recognize. Each double-page spread features the hymn on the right-hand page and three selections on the left: a short history of the text, a short introduction to the tune, and a short devotional text on the hymn ("As you sing this hymn…"). The hymn itself is written as it would appear in the hymnal with the treble clef line/melody represented. Thus, instead of reading the words as a poem might appear (the method used in many modern churches which print only the text in the bulletin), the student learns to read the hymn line by line with the accompanying music. Famous works of art illuminate the text; back matter includes selected psalms for responsive reading and several helpful indices ("Author, Composer, Source Index," "Topic Index," and "Alphabetical Index"). For those wishing to expand upon this book, a CD recording of all 115 hymns and a spiral-bound piano accompaniment book will be available later this spring; more information is available on the Student Hymnal website.
David and Barbara Leeman bring a wealth of experience to this endeavor, including years of experience teaching music to children. Their love of hymnody and what it adds to our worship shines in this collection. The book is nicely bound and will serve the child who owns it for many years of use. It is one of the few books that is worth buying for each child in the family to use. If singing hymns at home is not part of your family (or educational) practice, let us encourage you to consider adding it. Children love to sing, and the great hymns of the faith are a wonderful way to teach our children more about God and our rich faith. This is a book to own, a book to give children and grandchildren, a book to introduce to your congregation, and a book to use for your own purposes, particularly if a traditional hymn book is daunting. Highly recommended.
Books can be ordered through our usual Amazon store, but the authors have self-published this book; it is worth supporting them directly because of the high quality of this book. The Student Hymnal website contains more information on the book and related resources.
Cautions: none
Overall Value: 5 (out of 5)
Moral/worldview value: 5
Artistic value: 5
Categories: Starred Review, Christian, Music, Education
Cover image from Student Hymnal website

More than 75 books for children and teens, all about islands, oceans, and more. Bonus: get a free hand-drawn reading tracker!
Reading Ahead for You
Reviews and Resources Weekly in Your Inbox