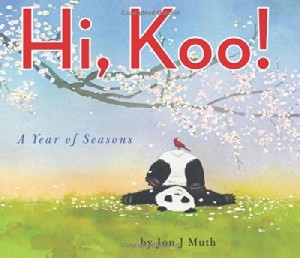 Hi, Koo!: A Year of Seasons by Jon Muth. Scholastic, 2014. 32 pages.
Reading Level: Picture Books, ages 0-8
Maturity Level: 1 (ages 0-4) and up
It is hard to describe a book that is simultaneously an alphabet book, an exploration of the haiku form, a beautiful collection of watercolor paintings, and the story of a playful panda (whose name is Koo). Beginning in the fall ("autumn") and moving through the year, the reader follows Koo's adventures even as they watch for the capitalized word on each page that moves them through the alphabet. Muth's delicate art is consistently well done, balancing varied perspectives, striking uses of red, and white space. Maintaining that haiku is "an instant captured in words—using sensory images," Muth plays with the haiku poetic form to great effect. A book that will delight preschoolers, this also makes a fun study for older students who are learning about haiku.
This title is one of the 2015 Cybils finalists for poetry.
Cautions: none
Overall Value: 4.5 (out of 5)
Moral/worldview value: 4
Artistic value: 5
Categories: Picture Books, Poetry, Seasons, Curriculum Enrichment
Cover image from Amazon

Please follow and like us: