Egg and Spoon by Gregory Maguire.  Candlewick, 2014. 496 pages.
Reading Level: Young Adult, ages 12-14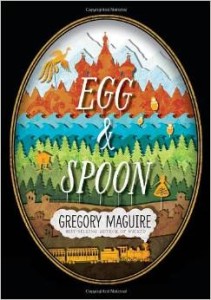 Maturity Level: 5 (ages 12-15) and up
Bottom Line: Egg and Spoon casts itself as historical legend, making rich use of centuries of Russian heritage, but passes over the most profound heritage of all.
Life can't get much worse for 13-year-old Elena Rudina. Her father drowned years ago, her mother is deathly ill, and her older brother Alexie has been drafted into the Tsar's army. As the novel opens, her other brother Luka is unceremoniously impressed into service also, though he's barely into his teens. The Russian winter and summer are threatening to trade places, with flood and drought and famine everywhere. Into this scene of despair chugs a train bearing people so glittery they belong in a fairy tale: Ekaterina (Cat) and her great-aunt and guardian Madame Sophie, with attendant snooty servants. Forced to remain in Miersk while a railroad bridge is being repaired, Cat strikes up a friendship of sorts with Elena, who is the same age. Then a mishap involving a priceless Fabergé egg leads to Cat being left behind in a dirt-poor village while Elena (who looks enough like Cat to be mistaken for her if the light is bad enough) finds herself on the elegant train, headed for an imperial ball where she (as Cat) will vie for the hand of the Tsar's grandson. The basic prince-and-pauper plot launches our characters upon a much grander quest involving the fate of Mother Russia herself, with supporting parts played by the Ice Dragon of the north, a tribe of life-sized matruska dolls, the elusive Firebird, and a wise-cracking witch—none other than Baba Yaga with her talking cat and her cottage on chicken legs.
All this is introduced by a nameless narrator who takes the long view: Your life story is really about how the hands of history caught you up, played with you, and you with them. History plays for keeps; individuals play for time. The playfulness is not really historical, but kind of a glorious hodgepodge, beautifully written and meandering over miles of Russian landscape and centuries of tradition. Glaringly, though, the church has little or no part in the story—Magic has taken over. "I am Mother Russia!" says the witch, claiming for herself the title often assigned to the Orthodox Church. She shrugs at God: "We stay out of each other's hair." The narrator, a monk, pops in with an occasional spiritual observation, but his chief inspiration is Maimonides, not Jesus. Elena and Cat are both strong characters who will learn the worst about themselves and resolve to do better. It's a multi-layered, very long (too long?) adventure with many delights, but little to inspire contemplation.
Cautions: Supernatural (witch)
Overall Value: 3.75 (out of 5)
Moral/worldview value: 3.5
Artistic value: 5
Categories: Young Adult, Fantasy, Folklore/Fairy Tale, Literary, Popular, Character Values, Life Issues
Cover image from Amazon

Reading Ahead for You
Reviews and Resources Weekly in Your Inbox