Noah's Ark, Peter Spier's classic wordless picture book, takes a Bible story that's often given too cute a portrayal and adds imagination, depth, and reverence.
*Noah's Ark illustrated by Peter Spier. Doubleday, 1976 (original publication; reissued 2015). 44 pages.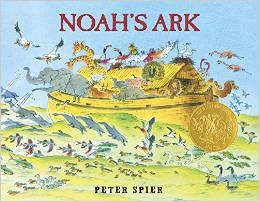 Reading Level: Picture Books, ages 0-4
Maturity Level: suitable for all
Doubleday/Random House has republished this classic work in a spiffy new edition, in which the illustrator himself (at age 87) took a hand. Peter Spier, a native of the Netherlands who moved to New York in the early fifties, illustrated many volumes of American history and folklore for young readers, but he also took a notable interest in the Bible. Though I don't know anything about his personal beliefs, respect for the text comes through in The Creation, The Book of Jonah, Christmas! and two advent calendars. Also Noah's Ark, which won the Caldecott Medal for American book illustration in 1977.
Of all the hundreds of illustrated versions of this story, Spier's is my favorite. It's jam-packed, for one thing: the story begins on the front endpaper, with a scene on the left of human mayhem: marching armies, burning city, human and animal corpses, all seen from a distance that gets the point across without shocking the reader. On the left, a ray of light shines down on an old man in a vineyard: …But Noah found grace in the eyes of the Lord. That's about all the text we get, except for a translation of a Dutch Reformation children's poem translated by Spier. The rest of the book is wordless. We know this story, but the pictures bring out likely details we may never have thought about, such as Noah building,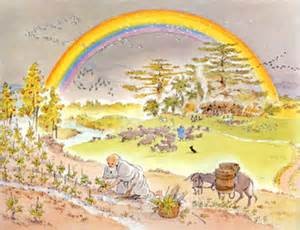 preaching, herding, while his wife and daughters-in-law hang laundry on the boat's broad roof. When the rain begins, we don't see people, just animals who didn't make the cut.  They stand stolidly as the water rises to their flanks—communicating a sense of doom and dread that's not overly disturbing for little ones.
Life aboard the ark is a busy, stuffy, messy affair: we see Noah and his sons shoveling manure (of course), hauling hay and feed, and (as time goes on) officiating at births. Some of these details are comic, like the elephant's foot on the mouse's tail, but never jokey or frivolous. Though Noah delights in the animals, he also experiences moments of deathly boredom, if not despair; by the time the dove finally returns with a live olive branch, we experience the joy right along with him. (Watch what happens to the branch.) The story carries over to the final endpaper, a beautiful spread—be sure to compare it with the front endpaper—with rainbow, flocks, fields, new trees, and the ark still perched on distant Mt. Ararat with Noah in the foreground: …and he planted a vineyard.
Cautions: None
Overall Value: 5 (out of 5)
Moral/worldview value: 5
Artistic value: 5
Categories: Picture Books, Christian, Bible Stories, Wordless, Award Winners, Read-Alouds, Starred Review

More than 75 books for children and teens, all about islands, oceans, and more. Bonus: get a free hand-drawn reading tracker!
Reading Ahead for You
Reviews and Resources Weekly in Your Inbox