The Scavengers by Michael Perry. Harper, 2014, 322 pages.
Reading Level: Middle Grades, ages 10-12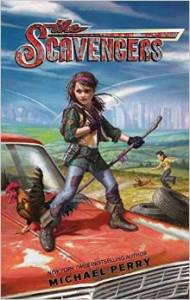 Maturity Level: 4 (ages10-12) and up
One-line Summary: The Scavengers is middle-grade dystopian fiction with a warm heart and laughs scattered among the thrills.
Maggie, at 13, is a self-described dirty-fingernailed, roughneck girl who has recently taken up residence in a Ford Falcon station wagon abandoned after a series of natural and man-made disasters caused the old civilization to unravel.  A new order has coalesced in hermetically-sealed bubble cities, but Maggie's world consists of the unruly outside, where people get by on their own while fending off genetic mutants like solar bears and the subhuman GreyGhosts (who act suspiciously like zombies). She barely remembers the day her parents left the city to take her and her little brother Henry on a "camping trip." They drove the car until it was out of gas, then kept walking until they found a mound of sufficient trash to build a scavenged home. Their nearest neighbors, "Toad" and Arlinda Hopper, are survivalists from way back and can teach the former city folks how to live off the land. But Ma is not really happy, having fled with only two books (Little House on the Prairie and Emily Dickinson). Henry has some mental deficiency that makes him hyper and incoherent, and Dad has begun "wandering off," to return snappish and disoriented.
I never wanted to read another dystopian novel, but this one is different. Rather than the unrelenting grimness of most of the genre, we get generous flashes of humor and multi-faceted personality. Toad won me over at first meeting with his tongue-twisting speech: "Spit's an oonerism! A flop-flip! A verbal mishmash in honor of Reverend William Archibald Spooner, door as a deadnail…but still alip in our lives!" He's not nuts; he just "langs loveage" and is very adept at playing around with it. Plenty of thrills accompany the well-structured storyline, as well as real surprises. There's some corporation-bashing and conspiracy fodder as well, and the villains aren't nearly as well-rounded as the good guys—caricaturish, in fact—but these flaws don't get in the way of the story. And by the way: boys aren't "supposed" to like novels with girls as protagonists, but I defy any red-blooded, adventure-loving boy to put this one down.
Cautions: Violence (not graphic, but intense)
Overall Value: 4 (out of 5)
Moral/worldview value: 4
Artistic value: 4
Categories: Science Fiction, Middle Grades, Character Values
Cover image from Amazon

Reading Ahead for You
Reviews and Resources Weekly in Your Inbox