Skies Like These by Tess Hilmo. Farrar, Straus and Giroux, 2014. 231 pages
Reading Level: Middle Grades, ages 10-12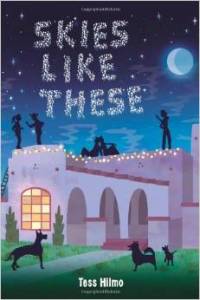 Maturity Level: 4 (ages 10-12)
One-line Summary: During a summer in Wyoming, Jade's new friend Roy learns the limits of hero-worship and self-creation.
Jade Landers, age 12, isn't thrilled about spending a good chunk of summer with her aunt in Wyoming. For one thing, she barely knows Aunt Elise, and for another, Willington sounds as sleepy and dull as her home town (Philadelphia) is awake and exciting. But Elise is thrilled to have Jade and tells her on the way home from the airport that Roy is equally thrilled. Who's Roy? "I'll let you discover for yourself." Discovering Roy is one of the highlights of this book. He grandly introduces himself as "short for LeRoy, after LeRoy Parker, better known as Butch Cassidy."  He fancies himself a descendent of the outlaw, his role model—a Robin Hood who outwitted the rich and benefited the poor. Roy has his own rich overlord to outwit, namely Kip Farley, whose new supersize hardware store put Roy's own family's store out of business. That family, not coincidentally, are the very poor whom Roy plans to benefit, and some of his ideas are pretty much illegal.
Jade takes the role of the Sundance Kid, sidekick in Roy's legitimate activities, and in the course of their adventures (which turn out to be more talk than action), some interesting character studies emerge—Roy most of all, who "hears what he wants to hear" and uses remarkable powers of personality to communicate his vision. There's an unattractive side to this which the author hints at but doesn't really show. Let the reader figure it out. Meanwhile he or she will enjoy the scenery of the New West, unfolding over the old.
Cautions: Worldview (secular humanism—finding ultimate value in oneself)
Overall Value: 3.75 (out of 5)
Moral/worldview value: 3.5
Artistic value: 4
Categories: Realistic Fiction, Middle Grades, Character Values, Discussion Starter*
*Discussion questions:
Literary element: What is your first impression of Roy? How does his character change—and Jade's?
Thematic element: Stars appear to be a symbol of the theme—how and what?
Worldview element: What do you think of Aunt Elise's advice to "ask the stars" when dealing with a difficult situation?
Cover image from Amazon

Stuck at home? Enjoy our FREE Christian read-along adventure for all ages with lots of book ideas, discussion questions, and more!
Reading Ahead for You
Reviews and Resources Weekly in Your Inbox