Pack of Dorks by Beth Vrabel. Sky Pony Press, 2014. 213 pages.
Reading Level: Middle Grades, ages 8-10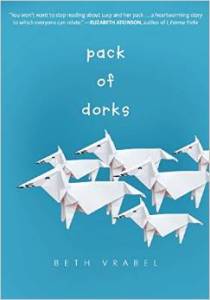 Maturity Level: 3 (ages 8-10)
One-line Summary: For the 10-year-old protagonist of Pack of Dorks, becoming a victim of bullying in middle school is an opportunity to learn acceptance of others.
Lucy and Becky are queens of cool at Autumn Grove Intermediate School, and to prove it they're going to publicly kiss cool guys Tom and Henry behind the ball shed during recess. Lucy is getting cold feet, but Becky reminds her how important it is to be popular: "You sometimes have to do things you don't want to do… It's what separates us from them." Fourth-grade kissing turns out to less than awesome, but Tom compensates with a dime-store ring even though he doesn't even glance at Lucy while handing it over. Disaster strikes when Lucy leaves her ring at the hospital, where her mother had a baby girl, and all of a sudden she's not cool. Becky and the boys have mysteriously turned on her during the day she missed school, and everybody else has followed suit—except maybe for gawky, nose-picking April and superquiet Sam, who glides under the radar.
Lucy navigates the politics of fourth-grade pecking order with painful observations: I hadn't figured out how to make myself popular again, but I knew hanging out with April was not the way to do it. Making friends with other residents of Dorktown would be like settling. It'd be like accepting that this is where I belong. Her fall from grace seems a little too abrupt and the B, T, and H cartel a little too vicious, but it's been a long time since I was there. While Lucy is struggling with acceptance, her folks must learn to accept the new baby, born with Down syndrome. Learning to appreciate different kinds of people is a lifelong challenge, and part of Lucy's growth is realizing what a jerk (her word) she herself is capable of being. She and her new friends will have to experience some excruciating moments in the process, but the Pack of Dorks will turn out to be the cool ones, once they don't care so much about coolness. The conclusion might be too pat, but the story is funny and insightful with an endearing protagonist.
Cautions: Language (mild vulgarity, on the order of "crap," and a family expression, "farting lollipops")
Overall Value: 4 (out of 5)
Moral/worldview value: 3.5
Artistic value: 4
Categories: Realistic Fiction, Middle Grades, Character Values, Life Issues
Cover image from Amazon
More than 75 books for children and teens, all about islands, oceans, and more. Bonus: get a free hand-drawn reading tracker!
Reading Ahead for You
Reviews and Resources Weekly in Your Inbox