Christmas Carols for a Kid's Heart by Bobbie Wolgemuth and Joni Eareckson Tada, illustrated by Sergio Martinez. Crossway, 2004. 96 pages.
Reading Level: Picture Books, ages 4-10
Maturity Level: 2 -4 (Ages 4-12)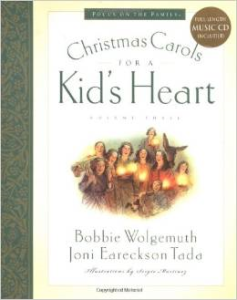 Christians are blessed to have such a wealth of worship and great truths of Scripture set to beautiful poetry and music in our hymnbooks, but these hymns take on even greater meaning when you know the story behind them. Knowing something about the life and struggles of the author or composer, or the circumstances in which the hymn was written, can make the song come alive in our mouths.
Wolgemuth and Tada have selected twelve well-known Christmas carols and provided context for each: a meditation on the hymn, perhaps something about the author or composer, the words and music to the hymn, related Scripture texts and a prayer of response. During Advent, a family might choose selections for variety or focus on learning one or two by heart. The illustrations are warm and quite attractive.
This book comes with a CD containing all the Christmas carols sung by children and the authors. Although it is part of a series, only one other volume is in print; however, the hymns and orchestral accompaniment are available on http://www.hymnsforkids.com/.
Cautions: none
Overall Value: 4.5 (out of 5)
Moral/worldview value: 5
Artistic value: 4
Categories: Picture Books, Music, Holidays, Christian, Devotionals, Education, Read-Alouds
Cover image from Amazon

Please follow and like us: