This book is a "Best of the Best" pick from our Winter Book Fair. CLICK HERE to see more gift ideas!
*A Library Book for Bear by Bonny Becker, illustrated by Kady MacDonald Denton. Candlewick, 2014. 32 pages.
Reading Level: Picture Books (ages 0-8)
Maturity Level: 1, 2 (ages 0-8)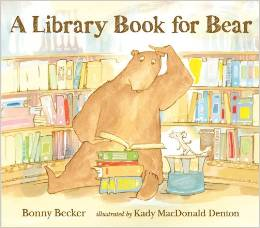 Bear is a loveable curmudgeon. Mouse, his patient and persistent friend, insists on introducing Bear to new experiences. So although Bear insists that his personal book collection (seven books about kings and queens, honeybees, and pickles) is quite sufficient, Mouse drags him to the library. Bear is convinced that the library contains a ridiculously excessive quantity of books, but he is finally won over to pick out something new.
This is the fifth Bear and Mouse book by Becker and Denton, and all of them are great fun to read. Excellent writing paired with expressive watercolor illustrations are both humorous and well-executed. The distinct characterization of Bear and Mouse make a memorable pair like Frog and Toad, George and Martha, and Elephant and Piggie, and show a consistent example of friendship and loving your neighbor. (Even the curmudgeonly ones.)
Cautions: none
Overall Value: 5 (out of 5)
Moral/worldview value: 5
Artistic value: 5
Categories: Picture Books, Starred Review, Animals
Cover image from amazon
*indicates starred review
Please follow and like us: