Tea With Grandpa by Barney Saltzberg. Roaring Book Press, 2014. 40 pages.
Reading Level: Picture Books, Ages 0-8
Maturity Level: 1 (0-4), 2 (4-8)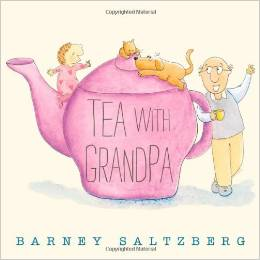 Grandparents who live far away from their grandchildren will especially appreciate this simple book about a little girl and her grandpa who manage to maintain a regular afternoon tea date. Very simple and sweet rhyming text tells of their special time, ending with a modern twist. The font is large enough to suit both aging eyes and also emerging readers. Great for connecting generations and very suitable for gift giving.
Cautions: none
Overall Value: 4 (out of 5)
Moral/worldview value: 4
Artistic value: 4
Categories: Picture books, gift books
Cover image from amazon. A free copy of this book was received from the publisher for a fair review.
Support our writers and help keep Redeemed Reader ad-free.