Brown Girl Dreaming by Jacqueline Woodson. Penguin, 2014. 320 pages.
Reading Level: Middle Grades, ages 10-12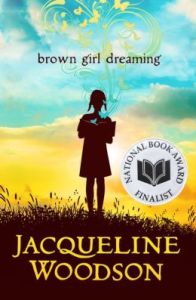 Maturity Level: 5 (ages 12-14)
Bottom line: Award-winning author Jacqueline Woodson's verse memoir is a window into the late 20th-century black experience.
Jacqueline Woodson (Newbery-winning author) was born in Ohio, the youngest of three siblings, but when her parents divorce her mother moves the children back to Greenville, South Carolina, to live with her own mother and father. Later, when Mama moves to New York City, the children stay behind for a year or so, during which Jacqueline develops a close relationship with her grandfather, called "daddy." When her mother returns from up North with a baby (this is never fully explained), the kids begin to realize that their days in the South are numbered. Eventually they move to Brooklyn, and there they stay (with frequent visits back to Greenville), thus experiencing both northern and southern culture. The three Woodson children are raised as Jehovah's Witnesses by their grandmother and later come under the spell of Islam from their Uncle Robert, a jailhouse convert. Those are the two poles of Jacqueline's childhood religious experience, from which she develops a non-specific spirituality. As the narrative ends, she is becoming aware of the Black Power movement and beginning to dream of being a writer: I am thinking if I can hold on to the memory of this song/ get home and write it down, then it will happen,/ I'll be a writer. I'll be able to hold on to/ each moment, each memory/ everything.
Racism always lurks in the background of her growing-up years but isn't the main point. The point is how a life takes shape—in a matrix of voices, places, and sensations—and develops a unique consciousness shared with the reader. Boil it down, and this is what writing and reading are all about: stretching. Challenging, intellectual works stretch our minds. Fiction and memoir stretch our hearts.  UPDATE: Brown Girl Dreaming is a Newbery Honor book for 2015.
Cautions: None (Some parents may have issues with the illegitimate baby and the uncle's conversion to Islam, but the narrative reflects the consciousness of a young girl who isn't able/ready to make firm moral judgments.)
Overall Value: 4 (out of 5)
Worldview/moral value: 3
Artistic value: 5
Categories: Autobiography, Graphic Nonfiction, Multicultural, Poetry, Award Winners
Cover image from Amazon
More than 75 books for children and teens, all about islands, oceans, and more. Bonus: get a free hand-drawn reading tracker!
Reading Ahead for You
Reviews and Resources Weekly in Your Inbox