Noah Webster and His Words by Jeri Chase Ferris and illustrated by Vincent X. Kirsch. Houghton Mifflin, 2012. 32 pages.
Reading Level: Picture Books, ages 4-8, 8-12
Maturity Level: 2 (ages 4-8) and up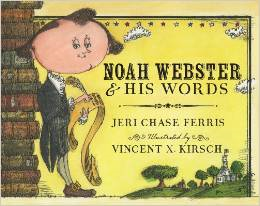 Noah Webster was convinced that the fledgling American nation needed to distinguish itself with American schoolbooks. First he wrote the "blue-backed speller," a grammar and reader with uniquely American content. Then he decided to write the first American dictionary containing non-British spellings and new words like "skunk," "dime," and "tomahawk." It was an extraordinary undertaking, requiring him to study twenty different languages and read almost every book he could find in American libraries and abroad, but his efforts helped unite the nation and standardize our language. Woven through the text in this picture book biography are vocabulary words with their definitions and droll illustrations. The story is followed by a chronology of significant events in Webster's life and further historical information. Although Webster was a secularist, the orderliness with which he approached words is a reflection of his creation in God's image. An excellent companion to The Right Word: Roget and His Thesaurus.
(Happy 256th birthday on October 16, Mr. Webster! Besides sharing a birthday, we share a love of words.)
Cautions: none
Overall Value: 4 out of 5
Moral/Worldview value: 4
Artistic value: 4
Categories: Auto/Biography, Picture Books, Education (Curriculum Tie-in and Enrichment), Language Arts
Cover image from amazon

More than 75 books for children and teens, all about islands, oceans, and more. Bonus: get a free hand-drawn reading tracker!
Reading Ahead for You
Reviews and Resources Weekly in Your Inbox