Cruel Beauty by Rosamund Hodge. HarperCollins, 2014, 342 pages.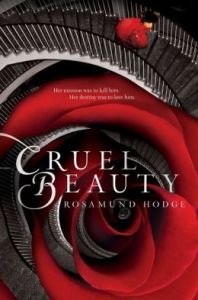 Reading level: Young Adults, 15-18
Maturity level: 6 (ages 15-18)
A ruined castle broods over the Island of Arcadia, and over the island arches a parchment sky. Arcadia has been separated from the real world by the Great Sundering, which occurred 900 years before our story begins. That's when the prince of demons, known as the "Gentle Lord," attacked the peaceful kingdom for reasons unknown and established himself as suzerain of the now-enclosed world. He demands tribute, and that's where our heroine comes in: "I was raised to marry a monster." That is, Princess Nyx was pledged to the Gentle Lord in return for a favor to her father, which turned out to be a curse. Now she hates everybody—her twin sister (who didn't get offered to a demon), selfish father, deceased mother, and most of all her betrothed, whom she will not meet until her wedding night, when she expects to be killed after she is ravished–unless she kills him first. You see why we're deep in YA territory.
The story is scaffolded by a complicated mix of myth and legend, but the plot is simple: reluctant bride falls in love with her unexpectedly-charming husband, fears adversity from self and family. The publisher compares it to "Beauty and the Beast," but it has more in common with Cupid and Psyche, or the more recent version of that story, C. S. Lewis' Till We Have Faces (which the author acknowledges as a primary inspiration). The novel's great strengths are description and character interaction, but it's not for everybody. The writing is a little too gorgeous and the romantic, heavy-breathing angle too consuming. But it's written from a perspective very rare in the YA world—an intensely moral, even Christian one, in which our own desires can deceive us and wrongs done by others don't absolve us. Nyx's noble impulses war with her selfish ones (sometimes to a fault), but her ability to face up to her own sins wins her husband's admiration and eventually his love. But is he really a demon?  I sense a sequel coming.
Overall value: 3.5 (out of 5)
Worldview/moral value: 4
Artistic value: 3.5
Cautions: sexuality (not graphic), supernatural (demons and demonic activity), violence
Audience: older teens, girls
Recommended use: discussion starter, independent reading
Discussion Points
Literary element: How would this story be different if it were told in third person?
Thematic element: What do the mythical references contribute to the story—if anything?
Worldview element: On p. 204, Nyx asks her husband, "Do you think, if you can condemn the whole world, that will make you guiltless?" What does she mean? Could this question be seen as a theme for the whole book?
Categories: FICTION, FANTASY, MYTHOLOGY, romance, Greek/Roman mythology, humility, compassion, anger, sacrifice
Reading Ahead for You
Reviews and Resources Weekly in Your Inbox