I Kill the Mockingbird, by Paul Acampora. Roaring Brook Press, 2014, 177 pages.
Reading level: Middle grades, ages 11-12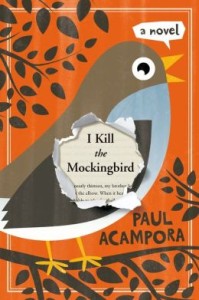 Maturity level: 4 (ages 11-12) and up
Lucy and her friends Elena and Michael are cemented by the lasting ties of book-fandom. They all love books, but not necessarily the same ones. Michael, for instance, has problems with To Kill a Mockingbird even though it's Lucy's favorite and it's on their summer reading list. But something else has recently happened. Mr. Novak, everybody's favorite teacher, better known as "Fat Bob," died of a heart attack right in the school cafeteria—right in front of Lucy, in fact. To Kill a Mockingbird was one of his favorite books, too. What better way to honor his memory than to get as many people as possible to read it?
The three friends come up with a plan they call "literary terrorism"—not exactly illegal, but disruptive and intriguing enough to attract widespread attention online and eventually go viral. I'm not sure I believe the scheme would have such an effect in the real world.  I'm not sure that middle-graders would speak as wittily as Lucy and her friends do, either.  But there's plenty going on below the main plot thread, such as the fragility and resilience of life (Lucy's mother having recently survived cancer), the mind-stretching of books and stories, the first stirrings of romantic attraction while crossing from childhood to young-adulthood, and the presence of the Holy Spirit. Lucy and her family are devout if somewhat irreverent Catholics, prone to jokes about the Virgin Mary. But even though tragedy has touched these kids, they don't give in to depression: "Life is a gift. Death is a mystery." And somehow, it's all good.
Worldview/moral value: 4.5
Literary value: 5
Cautions: profanity (one use of Jesus' name, which may actually be a prayer in the context), character issues (deceptive scheme, which the participants later apologize for)
Audience: independent readers, parents, educators
Recommended Uses: discussion starter, point of view, literary reference, independent reading
Awards: World Magazine Children's Book of the Year honorable mention
More than 75 books for children and teens, all about islands, oceans, and more. Bonus: get a free hand-drawn reading tracker!
Reading Ahead for You
Reviews and Resources Weekly in Your Inbox