Grandmaster, by David Klass. Farrar Strauss and Giroux, 2014, 226 pages.
Reading Level: Young Adult, Ages 15-18
Maturity Level: 6 (15-18)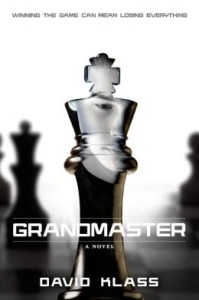 What if you discovered that your nerdy dad is a superhero? That's what happens to Daniel Pratzer—sort of, though Dad doesn't suddenly zoom across the sky in tights and a cape.  Daniel doesn't make the discovery until he joins the Loon Lake Academy chess club (#1 in New Jersey), and the two strongest players lean on him to participate in the father-son tournament in New York City. Why? Because Morris, his paunchy, number-savvy accountant father, happens to be a former Grandmaster, the highest rank in competitive chess.  In fact, Morris was considered by some to be another Bobby Fischer, but he quit the game before he turned twenty—why? We'll learn why, and also how unresolved issues between father and sons will be resolved. Or not. Because there are other father-son (and mother-daughter) dynamics going on, and not all loose ends tie up neatly.
The author was a competitive chess player until the age of 19 so he knows the moves and gambits. But chess is just the setting for a close look at the moves people make on the board of life, particularly in relevance to those who are closest to them. The value of observing these moves compensates, in my opinion, for the few occurrences of profanity in the dialogue, and the dialogue includes one heartfelt prayer.  It might be interesting to talk about all the parent-child relationships shown in the story—how true they are to life and how they might be strengthened or healed.
Overall quality: 3.5 (out of 5)
Cautions: profanity (one use of the Lord's name)/bad language, violence (not graphic)
Audience: boys, teens, parents
Recommended uses: point of view, entertainment, discussion starter
More than 75 books for children and teens, all about islands, oceans, and more. Bonus: get a free hand-drawn reading tracker!
Reading Ahead for You
Reviews and Resources Weekly in Your Inbox