Other Summer Reading Challenge posts: Introduction,
Week One: 1) Kids,  2) Teens, 3) Devotional. 
Week Two: 1) Kids, 2) Teens, 3) Devotional. 
Week Three: off
Week Four: 1) Kids. 2) Teens, 3) Devotional.
Week Five: 1) Kids, 2) Teens, 3) Devotional.
Week Six: 1) Kids, 2) Teens, 3) Devotional.
THE DISCUSSION
In our dicussion today, we have 1) Gina Dalfonzo, editor of Breakpoint Youth Reads, 2) Hayley Schoeppler, RR's executive assistant and Older Readers Assistant Editor, and 3) Amos Peck, Redeemedreader intern. And of course, I'm Emily Whitten, your host…so welcome to our second SRC teen discussion!
;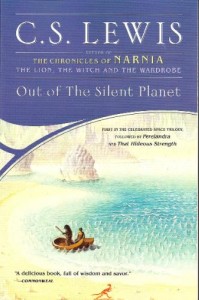 THE REVIEW by Amos Peck, RR Intern
Our review of Out of the Silent Planet is brought to us by summer intern, Amos Peck, while Hayley and Emily chip in with some discussion questions.
What do you get when you mix kidnapping, space travel, and one of the most celebrated authors of the twentieth century? A read that is well worth your time! While enjoying his holiday by trekking through the English countryside, Dr. Elwin Ransom stumbles upon an old schoolfellow. Pressed to stay the night, little does Ransom realize the adventure that awaits him. Journey with Ransom as he discovers an unknown world that initially seems completely alien yet turns out to be more intertwined with the fate of Earth than he ever imagined.
Filled with rich, descriptive detail and a flare for the original, Out of the Silent Planet has all the components of classic science fiction. Since the author is C.S. Lewis, one of the foremost Christian intellectuals of the twentieth century, the book does not stop there. Within its pages readers, along with Ransom, will start to wonder what exactly it means to be human. To be true to humanity, what sort of things must one be willing to do? Has the Bent One deceived humans to the point that they cannot be saved from their violent and desperate bid for eternal existence? Or, is it true that the good and eternal Maleldil has dared great things to save the humans from their own evil?
While Lewis's long and vivid descriptions may at first bog down younger readers, it is well worth persevering onward. The storyline starts like a normal standalone adventure, but by the time you finish the last page you will, if you are at all like me, comfort yourself with the knowledge that it is in a trilogy and then rush off to find the second book.
DISCUSSION QUESTIONS

1) Describe the plot. What makes this time-travel-ish?
2) Fallenness is different on Malacandria. How so? What does this mean for Ransom? For us readers?
3) In his sci-fi trilogy, Lewis is clearly interacting not with fantasy but Science as a discipline. Ransom and Weston speak and disagree concerning vivisection, an issue of the times that we do not hear about today. What does this tell you about the two men and the ideology of Science?
4) As Ransom learns more about Malacandra, he reflects on the possibility of a different social order. "It would be a strange but not an inconceivable world; heroism and poetry at the bottom, cold scientific intellect above it, and overtopping all some dark superstition which scientific intellect, helpless against the revenge of the emotional depths it had ignored, had neither will nor power to remove." Does this musing make your think of Malacandra, or much closer to home?
5) As Narnia lovers, we caught glimpses of Narnia in Out of the Silent Planet. What glimpses of Narnia did you find?
6) What if someone doesn't like sci-fi or this book?! Is it worth the read?
Reading Ahead for You
Reviews and Resources Weekly in Your Inbox