While we're gearing up for our summer reading challenge (still time to sign up!) the kids may be looking around for something to read. Fiction comes to mind—what a great time to catch up with Percy Jackson or Greg Heffley! Or not. Though lighthearted fantasy or humor seems right for summer, don't neglect nonfiction. Kids can be instructed without even realizing it.
We're Doing What for Summer Vacation?, by Cindy Davis and Ali Rollanson. Author House, 2013, 95 pages.  Age/interest level: 9-13.
Ali, age 9, and her 12-year-old brother Zak live a normal life with their parents in Franklin, Tennessee. Reasonably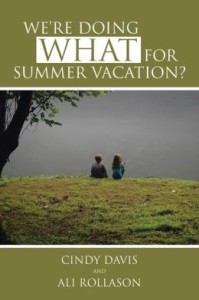 normal, that is—their English dad and American mom are former back-packing hippies who never recovered from the travel bug. When they decide everybody could use a month-long trek in Borneo, the most logical question is, "Where's Borneo?" (Do you know?)
This book is a collaboration between Ali and her mother, and reads like it. Ali is a very gifted writer for her age, but the memoir could have used some editing. In journal form, she relates her experiences with bedbugs, strange food, living in a treehouse and playing soccer with nearly-naked kids on the "Island of Children" (whose parents abandon them so "they can have a better life"–not sure if that means for the parents or the kids). As Paul Harvey used to say, It's not one world. But it's a fascinating world, and Ali tells her story well enough that some readers would love to join her, while others will be just as happy reading about it within the comfort of their own four walls.
Author House is a self-publishing outfit, but I heard about this book through Kirkus Reviews and my local library has it, so hopefully it won't be too hard to find. It's a great reminder that there's a big wide world out there, and even kids can be explorers.  Not only that, but they can write about it, too!
Worldview/moral value: 3.5 (out of 5)
Literary value: 3
Ken Jennings' Junior Genius Guides, by Ken Jennings, illustrated by Mike Lowery. Simon & Shuster, 2014, 160 pages.  Age/interest level: 8-12.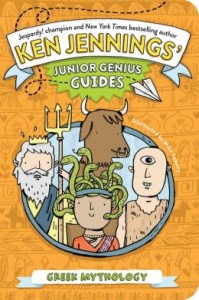 "It's much better to know something about everything than everything about something." Thus says Blaize Pascal, and there's a lot of truth in the saying. A little knowledge might be a dangerous thing (thus says Alexander Pope), but so can unbalanced knowledge, or knowledge that won't open itself up to further knowledge. At any rate, the Pascal quote is the official "Junior Genius" slogan as adopted by Ken Jennings, who is still (I think) the record holder for number of consecutive appearances on Jeopardy! (74). Three guides are available now—Maps and Geography, Greek Mythology, and US Presidents—and a fourth, Outer Space, will be published in October.
The format is arranged like a school day. For the Greek mythology guide, that means seven periods, each corresponding to an area of mythology, such as Mt. Olympus or Roman counterparts; recess (myth-themed games); art and music classes (projects); and lunch (a very elaborate Trojan Horse cookie with a surprise inside—a more pleasant surprise, incidentally, that the contents of the original Trojan horse). Also pop quizzes, with answers in code, and a final exam. It's all good fun, a little crude at times (e.g., Theseus as "the buttless wonder"), with lots of lame jokes and bad puns: Oceanus was a Titan with 6000 children. Can you imagine all the parent-teacher conferences that guy had to go to? But the facts are for real, and kids at this age usually enjoy learning facts.  By July they just might be bored enough to give the Genius Guides a try.
Worldview/moral value: NA
Literary Value: 3.5
For more real-life kids' adventures, check in with Gannon and Wyatt, or take a trip from home with an outstanding children's Atlas. or the Lonely Planet survival guide.  For Egyptian mythology, or a fun look at the Romans, go here.  The science-minded might enjoy the One-Minute Mystery science series, and crafty kids can do some good with Crafts for Hope.  If the kids need to get outside, why not start an outdoor hobby, like bird- or beetle-watching? or just play some games?  We have lots of summertime suggestions!  
Support our writers and help keep Redeemed Reader ad-free.