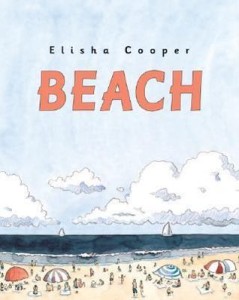 Of course a professional book reviewer and librarian takes books with her to the beach–for herself AND her family. In case you're of like mind, here are some beach-related books and Dewey numbers to check out before you head to the coast this summer. Kids enjoy both fiction and nonfiction, so this list is a mix. (Don't forget to look at the better gift shops for beach-themed books. We noticed a lot of worthy books on beach-related subjects in the stores we passed through. If your child has a strong interest in something like sea turtles, you may find a bigger selection at a gift shop at the beach than at your local library. Consider buying a book as your souvenir!)
Picture Books
Wave by Suzy Lee. Chronicle, 2008. Age/interest level: 0-6. A wordless picture book of a little girl by the sea. Marvelous.
A House for Hermit Crab by Eric Carle. Aladdin, 2005 (first published 1987). Age/interest level: 0-4. Eric Carle's familiar style shows a hermit crab outgrowing his shell and looking for a new one.
Splash! Anna Hibiscus by Atinuke and illustrated by Lauren Tobias. Walker Books, 2013. Age/interest level: 4-7. The same duo who delivers top notch chapter books about Anna Hibiscus created this charming picture book about Anna's large family's day at the beach. Can double as an easy reader.
Beach by Elisha Cooper. Orchard, 2006. Age/interest level: all. Elisha Cooper outlines a day at the beach full of many people, lots of activities, and terrific scenery. Cooper's soft watercolors are a perfect fit for beachy scenes.
Little Tim and the Brave Sea Captain and others by Edward Ardizzone. Age/interest level: 4-8. This is an old, classic picture book series that my family has read and reread and reread. A longer book than most published today, this also works well as an easy reader for those getting more proficient but not quite ready for a longer chapter book.
One Morning in Maine by Robert McCloskey. Age/interest level: 4-8. Spend a morning with Sal and her family in Maine–Sal looses her first tooth in this book, and it's a good fit for kids who enjoyed Blueberries for Sal during preschool but who want a bit more grown-up fun.
The Little Sailboat by Lois Lenski. Age/interest level: 0-6. Another classic picture book series that is hard to find now–check your local library! This is one of the Mr. Small books and these, like the Little Tim books, also work as easy readers.
This is Not My Hat by Jon Klassen. Candlewick, 2012. Age/interest level: 4-8. So funny and dry! A short, humorous book about fish….
Poetry Books
Water Sings Blue: Ocean Poems by Kate Coombs and illustrated by Meilo So. Chronicle Books, 2012. Age/interest level: 4-8. One of my favorite poetry picture books, this is a great beach read. The poems are about various beach/ocean-related topics and swirling water colors accompany the poems.
Shiver Me Timbers!: Pirate Poems and Paintings by Douglas Florian and illustrated by Robert Neubecker. Beach Lane, 2012. Age/interest level: 4-8. Silly poems about pirates.
Easy Readers
The best bets in this section are the many easy-to-read nonfiction books along the child's interest. Check the Dewey sections below, keeping a lookout for Let's-Read-and-Find-Out-Science, DK Readers (some more advanced ones in this line), and similar series. Note that these are secular science series and, while well done, will sometimes include phrases like "millions of years" or "evolved." You may want to read these first with your child and then turn him or her loose to reread. We were staying on Ocracoke Island where Blackbeard was finally killed, so my kids all enjoyed this DK Reader pictured which covers a number of famous pirates.
Chapter Books
Hooey Higgins and the Shark by Steve Voake and illustrated by Emma Dodson. Candlewick, 2012 (US version). Age/interest level: 7-10. Reluctant boy reader? Try this very silly–and very British–short chapter book. Three boys trying to capture a shark just to raise money to buy a giant chocolate egg…. adventure and hilarity ensues. Note that the boys end up in a ladies' department store section during a chase scene; one of them emerges with bras and panties draped all over him (and shown in the illustrations). It works with the plot, but some may wish to avoid this type of humor. One of a series.
Lots of chapter book series have beach-themed volumes: Daisy Dawson at the Beach, Nate the Great and the Boring Beach Bag, Lulu and the Dog from the Sea, etc. These are good choices for kids who are in the "series phase." Don't worry–they'll re-emerge at some point!
Middle Grade Books
Treasure Island by Robert Louis Stevenson. A classic with good reason, this swashbuckling tale is a delightful audio book choice for your car ride or engrossing read for one of your young readers during a long afternoon at the beach.
The Penderwicks at Point Mouette by Jeanne Birdsall. Yearling, 2011. Age/interest level: 9-12. The third book about the charming Penderwicks finds them on a beach vacation. It's not absolutely necessary to have read the first two books, but readers will no doubt enjoy this one more for having read the others.
The Magic Summer by Noel Streatfield. Age/interest level: 9-12. An old-fashioned tale of 4 British siblings sent to their aunt's house in Ireland during WWII. By the author of the Ballet Shoes books.
Lives of the Pirates: Swashbucklers, Scoundrels (Neighbors Beware!) by Kathleen Krull and illustrated by Kathryn Hewitt. HMH Books for Young Readers, 2010. Age/interest level: 9-12. This is a collection of short chapters on various famous pirates–both real and fictional. The book is nicely organized, and readers can pick and choose who they read about. A fun nonfiction book for middle grade level readers; the book covers a few female pirates, too!
Mysteries! "Brain candy" books! The beach is a great place to relax and read just for fun–pick up some mysteries for the road or just some fluffy reads that your child is interested in.
Activity Books
Coastal Treasure Hunter by Louise Spilsbury. Crabtree Publishing Company, 2011. Age/interest level: 8 and up (younger with parents' assistance). This is a well organized book about the many types of "treasures" you might find at the coast. Everything from shells to sea glass to pirate treasure is covered, and different types of environments are specified (tidal pools, sand, water, etc.). Types of needed gear and clothing are listed, too, and a few crafts using newfound treasures are included.
Browse the 740s in the Dewey section of your library. This is where the drawing and craft books are located–look for ones about ocean animals, beach scenes, and the like. There should also be at least one book on making paper airplanes (the beach is always windy and a great place to "fly" things!).
Dewey Numbers to Explore:
570s: Oceans
594: Seashells
597: Fish, Sharks and Turtles (lots of kids are fascinated by sea turtles as well as sharks–this tends to be divided along gender lines with girls going gaga over sea turtles and boys being fascinated by sharks).
599: Whales and Dolphins
910s: Shipwrecks (including, of course, the Titanic)
920s: Pirates! (Lots of pirate lore at many beach locations)
There are so many more beach/ocean-themed books than I expected. I'm sure you will find many at your local library to take with you on your beach trip. Enjoy your vacation!
All cover images thanks to goodreads
Support our writers and help keep Redeemed Reader ad-free.