Here are some resources that weave together the life of William Shakespeare with the world he lived in, how the plays were produced, and what became of his second-best bed after he died. All of these resources cover pretty much the same material, the primary difference being the age of the intended audience. I have combined them with versions of the plays reviewed previously, but if you really want to deepen your appreciation of the author and his work, start with the simplest pair of plays and background and progress to the level of depth you and your family desire. To my surprise, I could not find many recent nonfiction publications in honor of his 450th birthday, but these and others should be available at your local library in the 822.33 section and also the biographies.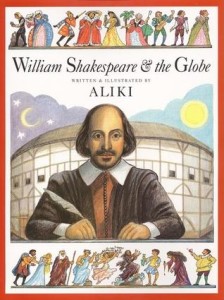 Aliki. William Shakespeare & the Globe. HarperCollins, 1999. Aliki knows how to write and illustrate well for younger children. Her childhood fascination with Shakespeare led to this book in her adulthood, showing that you really can start appreciating him at an early age. This book is divided into acts and scenes like a play, and each section is brief for short attention spans. Maps, important personages, and the Globe theater, both the original and the recently completed replica are all included. A perfect complement to Marcia Williams's Tales of Shakespeare.
Stanley, Diane and Peter Vennema. Bard of Avon: The Story of Shakespeare. Morrow Junior Books, 1992. This team has produced a number of excellent picture book biographies. This is the most narrative, with fewer of the margin notes and "did you know" features provided in the other books (which can be distracting). Intended for a slightly older audience than Aliki's book, suitable accompaniment for both Marcia Williams Tales and E. Nesbit's Beautiful Stories From Shakespeare.
Dorling Kindersley Eyewitness Books has a volume on Shakespeare. This book is highly visual with great photographs, but smaller text and little narrative. There is less focus on Shakespeare himself and more on society, culture, and history. This would be good with Lois Burdett's Shakespeare Can Be Fun! series for young people who are beginning to grasp the stories and general background but desire more detail.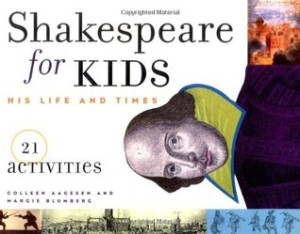 Aagesen, Colleen and Margie Blumberg. Shakespeare for Kids: His Life and Times. Chicago Review Press, 1999. A great resource for a comprehensive unit-study with more in-depth, detailed narrative, illustrated with black and white photographs and enhanced with twenty-one activities. Read this alongside Charles and Mary Lamb's Tales of Shakespeare and start perusing the plays themselves.
Ganery, Anita. The Young Person's Guide to Shakespeare. Pavilion Books, 1999. This book is written for a reader with more maturity who is looking for an overview of Shakespeare's life and plays. Besides the portraits and historical scenes from his life, there are photographs from productions by the Royal Shakespeare Company and also a few of the movies, showing the variety of interpretations of his work on stage and screen. A CD is included with some of the great speeches, so you can hear what they might sound like in case the RSC isn't coming to your neighborhood.
Have you seen any of the Shakespeare movies yet? How are your sonnets coming for the contest? Who are you inviting to your Shakespeare party? How has your reading of the historical fiction based during the time of Shakespeare by Blackwood and Cheaney affected your appreciation for the plays? Does your family enjoy the plays more using the resources here?
Looking forward to seeing who will win our contests in the coming days. Be sure to find out with us!
Please follow and like us: