The NIV Jesus Bible, Zondervan, 2014, 1760 pages
Reading Level: Middle Grades, 8-10
Recommended for: ages 8-12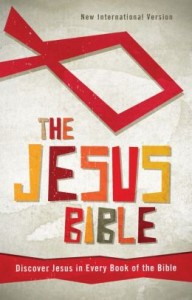 Bottom Line: This children's version of the NIV translation puts a proper focus on Jesus as the central figure of the entire Bible.
It's about time! Bible publishers are waking up to the fact that the whole word, both Old and New Testaments, are about Jesus, and I give a lot of credit to the success of The Jesus Bible Storybook by Sally Lloyd Jones. The Jesus Bible is an all-new children's edition of the NIV, with features never before seen, and it's hot off the presses this week. The introductions to each book include a paragraph wondering "Where is Jesus [in the book]?" and devotionals scattered through the text ponder aspects of Jesus' life, attributes, and work. "Live like Jesus" text notes encourage the development of Christlike character. Throughout the Old Testament, messianic prophesies and foreshadowings are indicated with a Star of Bethlehem. Full-color inserts show Jesus's family tree, Jesus in the Psalms, a timeline of his life, a chart listing his miracles and parables, and Evidences of His Resurrection. These all seem helpful and worthwhile—I especially like the family tree and parables list.
The NIV is translated from a broadly Evangelical slant, and the devotional inserts of this Bible sometimes reflect a touch of moralism—e.g., things happen because of a character's obedience, rather than the Holy Spirit's work in his life. But at the same time, "It is our faith in Jesus that makes us righteous before God." Bible shoppers should also be aware that the NIV has been involved in controversy over "gender inclusive" language for almost 20 years, and though the current version doesn't go as far as Today's NIV (TNIV), the translators have changed several singulars to plurals and replaced masculine pronouns with gender-neutral nouns like "one" and "person." Marvin Olasky of World Magazine cites the latest here.  On the other hand, this Bible includes no pictures of Jesus, for parents who extend the second commandment to picturing the Son of God.
Overall Rating: 4.5 (out of 5)
Categories: Christian, Bibles and Bible Storybooks, Middle Grades, Gift Books
Please follow and like us: