Big Picture Interactive Bible: Connecting Christ through God's Story (HCSB). Broadman &Holman Kids, 2014, 1350 pages.
Reading Level: Middle grades, ages 8-10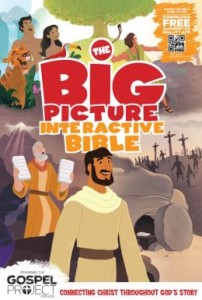 Recommended for: ages 6-10
Bottom Line: The "Big Picture" in this HCSB Bible relates to Jesus as the central figure of both Old and New Testaments.
Like the NIV Jesus Bible, the purpose of Big Picture is to trace the coming of Christ throughout the Old Testament and his meaning in the New. Two features I especially like: the Table of Contents, which usually just lists the books and page numbers, is expanded to represent an outline of the whole Bible, so readers can get a good sense of the sweep of the story just by looking at the Contents. Also, instead of a Bible dictionary in the appendix, the "Big Words" feature explains words, concepts, people groups, and nations as the reader encounters them. So as we read through Exodus, for example, we learn the meaning of Passover, Sabbath, Egypt, Ephod, etc. As one who's always been disinclined stop reading in order to look up unfamiliar words in a dictionary, I really like this.
Other features include "Christ Connections" (Jesus in Old and New Testaments), "Seeing the Big Picture" (basic commentary), "Big Questions" (both observation and discussion), and 100 memory verses. The text also includes 146 full-page, full color illustrations with "Augmented Reality." I'm still not exactly sure what this means, but you can download a free app on your phone that will enable you to see enhanced, interactive versions of the pictures as the stories are narrated. "Reality" doesn't seem like the best word, because the pictures are too cartoony for my taste. I'm going to guess that the augmented reality doesn't add much, but the other features make up for it. The font is larger than many children's Bibles, making for a lot of pages and a hefty chunk to carry around. But hey, they're young and strong. For more about the Holman Christian Standard Bible translation, go here.
Overall Rating: 4.5 (out of 5)
Categories: Middle Grades, Christian, Bibles and Bible Storybooks, Gift Books
Please follow and like us: