NKJV Ignite: the Bible for Teens. Thomas Nelson, 2013, 1600 pages.
Reading Level: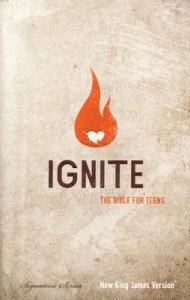 Young Adult, ages 12-15
Recommended for: ages 12-15
Bottom Line: Ignite offers engaging features for the active teen who is just beginning to engage seriously with scripture.
In trying to determine the difference between this teen Bible and Extreme Teen (another NKJV from Thomas Nelson), I would guess that Ignite is for the more active, less reflective reader. The in-text features are shorter and punchier, and the topical index is in the front rather than the back—as if the reader might want to get in, get it, and get out. The table of contents also lists books alphabetically rather than canonically, for the reader who's less familiar with their arrangement. "Spotlight" icons scattered throughout signal a 100-day reading plan for new Christians or kids just starting to read the Bible on their own: the first reading is Genesis 1:1-2:3, with a summary, application, and directions to the next Spotlight given both by scripture reference and page number. A "fire" theme is carried on throughout: "White Hot Topics" that discuss Bible characters and applications for today; "Flashpoints" about social or personal issues; "Sparks" (God's promises); and "Soul Fuel" (memory verses). The Flashpoint and White Hot Topic features refer the reader to other sidebars on the same topic. It's almost too much for me, but the material seems very sound and I can see how it would be helpful to a young person who is just beginning to explore scripture on his or her own.
 Overall Rating: 4 (out of 5)
Categories: Christian, Bibles and Bible Storybooks, Young Adult, Gift Books
Please follow and like us: