NKJV Extreme Teen Study Bible, Thomas Nelson, 2012, 1792 pages, for ages 13-18
Reading Level: Young Adult, ages 12-15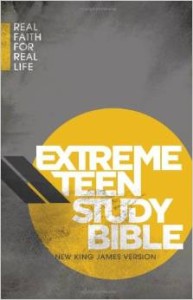 Recommended for: ages 12-15
Bottom Line: The Extreme Teen Study Bible offers standard in-text features in a reliable translation.
This version of a teen study Bible in the New King James translation was originally published in 2001. It begins with a 47-page "Quick Reference Finder" organized in general subjects with specific subheadings underneath.  Under Family, for instance, readers can find scripture references relating to work, children, family structure, family authority, and more.  Book introductions are divided into "Then" (historical setting), "Now" (theological significance) and "Reality Check" (contemporary relevance). Reality is a big theme in this Bible, reflected in the titles of certain in-text features, like "Making It Real" (expanding on biblical interpretations and theological topics), "World App" and "Life App" articles on contemporary issues, "God's Promises," "Profiles" of 39 Bible characters with applications for the reader, and "What's It Mean?" definitions of biblical terms and ideas.  The appendix includes indices of some of the features, as well as four Bible reading plans: a full year plan, as well as "30 Days with Jesus," "60 Days with Paul," and "90-Day Bible Overview.
These are all adequate features and some are very good, though overall it feels like a "first attempt" at creating a NKJV Bible for teens.
Overall Rating: 4 (out of 5)
Categories: Young Adult, Bibles and Bible Storybooks, Christian, Gift Books
More than 75 books for children and teens, all about islands, oceans, and more. Bonus: get a free hand-drawn reading tracker!
Reading Ahead for You
Reviews and Resources Weekly in Your Inbox