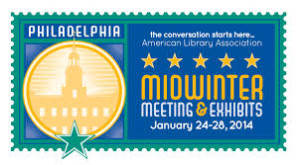 Among children's literature lovers like ourselves, very little else holds the mystique of the ALA Youth Media Awards. The ALA holds two major national events every year: Annual Conference, which happens in the summer, and Midwinter Meeting, which happens late January. At Annual, the winners of the Youth Media Awards have a celebration. At Midwinter, though, the awards are announced. Oooh… the excitement. But, by now, you, too, know the winners and our thoughts! So, today I'll reflect on some of the other parts of this large professional meeting that draws publishers, editors, librarians, teachers, and many more to one place to discuss all things library-related (there are even booths in the exhibit hall with furniture!).
Overal Impressions
ALA Midwinter is a working conference full of committee meetings, vendors and publishers hawking their wares, discussion panels, and business meetings. There were more than 1800 meetings, more than 12,000 attendees, and about 3700 exhibitors! It was great to meet and talk with editors, publishers, and librarians about trends, books, and what we are offering to today's kids. It was also fascinating to watch some of the book award committees in action. The "biggies" that are announced on Monday are all closed to the general public (they even put up signs to that effect and lock the doors!). But the ALA Notables Lists committees are open to all. On Saturday afternoon, there is even a session in which teens speak for or against titles being considered for the YA lists. Those on the committees really do take into consideration all the potential audiences for their book lists and discuss every book that is on their nominations list (175 books for the YA committee's fiction list alone!).
Diversity
There's an undercurrent in the children's literature world amongst publishers and reviewers that not enough diversity fiction/literature is being published. The ALA considers the LGBTQ community to be diverse, and that particular area seems to be getting plenty of attention. But racial and ethnic diversity is still the stepchild here; a quick scan around the exhibit hall on Saturday and I thought: no wonder people complain! This world is so white! Nearly every editor/publisher present was white, nearly every book jacket featured white characters, and the major publisher whose goal is specifically to publish in this area was absent (Lee&Low).
I attended a discussion panel on diversity led by 4 major editors and 1 librarian who form the CBC Council on Diversity. Their comments were thought-provoking. Do we recognize when diversity in books is simply a token? The stock Asian character who is smart and soft spoken? The side character who is African American? What about generic Latino characters? In reality, Latinos come from a wide variety of cultural backgrounds (as do Asians and any other general group). Yet we tend to lump them all together. What about characters who have disabilities but gain super powers or something miraculous happens to them before they succeed? That communicates that the disability was holding them back, and that they could never succeed in the midst of adversity.
The editors also described how few manuscripts they even receive with minority characters. One said she received a grand total of 2 last year that featured a middle grades African American boy protagonist. If the manuscripts aren't up to snuff in terms of their literary quality, then diversity alone isn't enough to merit publishing it. The conversation also included the "white-ness" of book covers even when characters' ethnicity isn't specified (and sometimes, even when it is!), the need for school book fairs to be more well rounded, the many school and public libraries that serve large minority populations, and other impassioned pleas from members of the audience.
The Takeaway
What an opportunity we, as Christians, have in this area! Think of the lineage of Christ: Tamar, Rahab, Ruth, and Bathsheba were all racially/ethnically diverse, and they are the only women even mentioned in Matthew 1. Jesus makes a point of speaking with a Samaritan woman, with lepers, with people who had all kinds of physical disabilities…. We should be among those who appreciate true diversity: the marvelous and varied people the Lord has made in his image. We must think about our own actions–witting or unwitting–and the message we are communicating about our professed faith. I remember vividly a conversation I had with one of my African American seniors at a Christian school in Atlanta years ago: the book I assigned that year was the first book she'd read in her 12 years at that school that featured an African American character. Shameless. We also know missionaries in many different cultures around the world. Take the opportunity to learn a little bit about those cultures in your reading. I'm proud that RedeemedReader has often taken a look at different cultures, and I hope we can continue to do so in a way that honors the Lord and the unique individuals he has created.
Do you, our fellow Redeemed Readers, agree? What books have you read that shed insight into a different culture? What books have you read or seen that feature more than one race or ethnicity present? Are there books about kids with special needs you'd recommend? 
There are some great reads out there, and we've looked at some particular areas over the years here. Last summer, we traveled around the world in our reading. Specific cultural areas we've discussed include the Anansi tales from Africa, the Boxer Rebellion in China as well as some other books about China, two recent books about African American history (one of which just won the Coretta Scott King award!), Japanese-American culture in the latest National Book Award winner and Japanese literature for kids, looked at African mythology, and provided a diverse picture book list. Our God has created a wonderful, diverse world full of people made in His image; let's keep finding out more. 
More than 75 books for children and teens, all about islands, oceans, and more. Bonus: get a free hand-drawn reading tracker!
Reading Ahead for You
Reviews and Resources Weekly in Your Inbox