Pilgrim's Progress: John Bunyan's Classic Story Adapted for Children, by Anna Trimiew,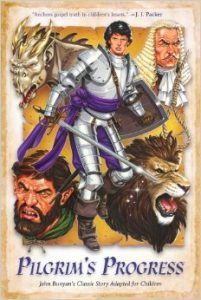 illustrated by Drew Rose.  Great Commissions Press, 2013, 109 pages, including glossary and index. 
Reading Level: Middle Grades, ages 10-12

Recommended for: ages 10-14
Bottom Line: This adaptation of Pilgrim's Progress from Great Commissions Press can serve as a readable introduction to Bunyan's classic.
"This version is designed to capture children's imaginations and introduce them to Bunyan's enduring masterpiece," according to the preface.  Great Commissions Press is the publishing arm of the Presbyterian Church in America, and there's a decided "educational" feel to this version.  It's very straightforward and easy to understand; after a short introduction to John Bunyan, it follows the plot of his story to the letter, though condensing the detailed conversations and doctrinal discourses.  A "glossary" is included—actually a guide for interpreting all the allegorical symbols, chapter by chapter.  In the center of the book is a double-page spread illustrating Christian's entire journey over a winding road, from Destruction to Celestial–especially helpful for keeping the big picture in mind.
It's excellent for study and discussion, though I'm not sure how captivating it is to the imagination.  The prose is close to the original in that it provides little in the way of description or sense of place or character.  Drama and pathos probably wasn't Bunyan's purpose in writing The Pilgrim's Progress, but rather to put story elements to use in illustrating the challenges of a Christian life.  The doctrinal issues, so vital in his day that he served jail time for them, get plenty of exposure here, even to imitating the numerated points that appear frequently in the last third of The Pilgrim's Progress.  This is no bad thing and of course, these doctrinal issues need to be talked about.  Just be aware that, especially toward the end, this adaptation becomes more propositional and less dramatic.  The writing is also rather pedestrian: 
"Oh, what must I do?" cried a man dressed in rags as he walked in the fields outside is house.  "What must I do?" he sadly cried again.  The man was carrying a heavy burden on his back and reading a book.  "This book says the city I live in, the City of Destruction, will be burned one day with fire from heaven.  I must find a way to escape!  Oh, what must I do?  Where should I go?" The man anxiously looked this way and that, not knowing what to do.
The great strength of this version is providing a close approximation to the original that doesn't scare middle-graders away.  
Cautions: None
Overall rating: 4 (out of 5)
Worldview/moral value: 5
Artistic value: 3.5
Categories: Middle Grades, Christian, Classics, Character Values
Please follow and like us: