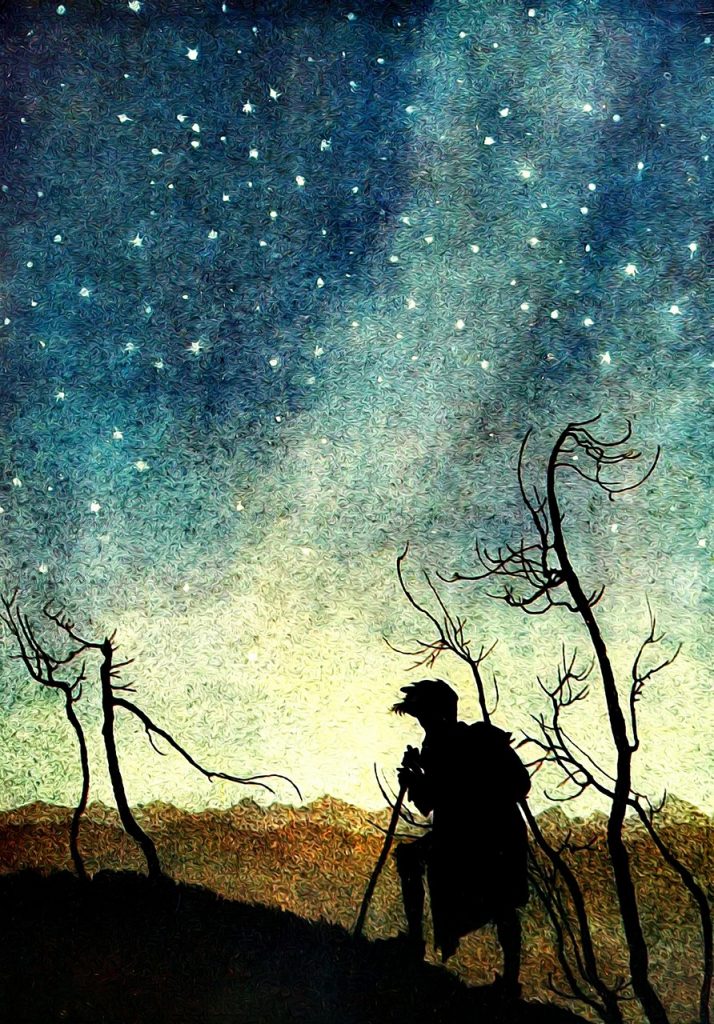 (Note: Betsy and I are indebted to Ethan Pettit, librarian and Children's Literature professor from Covenant College, who enlightened us so much in seeing Christ in literature and taught to discern Truth and Story.)
The earth is the LORD's and all its fullness, the world and those who dwell therein.
What does Psalm 24:1 have to do with children's literature and picture books?
Everything–it's all His! This truth applies to literature as much as to any aspect of our lives, and we have the privilege of making discerning, redemptive reading with our children an act of worship.
God is a God of Words.
He uses words to reveal Himself. The Word was made flesh. He spoke and created all things, including language and narrative and meaning. When Solomon was a young ruler in I Kings 3, God offered him anything he asked for. Instead of riches or long life, Solomon sought an understanding heart and the ability to discern between good and evil. Is this not what we would have for our children, that they would clearly see the world without compromising right and wrong, that they would be attracted to characters worthy of admiration and imitation?
At Redeemed Reader, we like to emphasize Truth (with a capital T) and Story (with a capital S) to distinguish superior examples of literature from the mediocre. How do we define these terms?
TRUTH/truth, STORY/story, ILLUSTRATIONS/illustrations, READING/reading
TRUTH
This is reality as God has ordained it, from the order of His creation and the fall of man. There is good, and that is God. There is evil, and that is the nature of man. There is redemption, and that is Christ. Anything in literature that demonstrates into these realities is reflecting His truth.
truth
This kind of truth is common grace: any instance of God's TRUTH reduced to the common insights or perceptions of mankind as evidenced in Creation or the common nature of man, such as the Golden Rule. "truth" includes general knowledge and facts that are true, but not the great TRUTH as God Himself has revealed it. "truth" may also be truisms, ideas that are commonly recognized and accepted among men but may or may not be accurate according to Scripture, such as "God helps those who help themselves."
STORY
A classic narrative that has the power to represent either "TRUTH" or "truth" to people of all times and any places or cultures with unity, persuasiveness, conviction and memorability. These are the stories that really have power. They linger with you, and you just have to share them with others in order to enhance your own delight. These timeless themes are often found in folklore because they are worthy of being inherited from one generation to the next. What is the greatest story ever told on earth? The Incarnation of Christ!
story
This kind of narrative fails to achieve classic value or status. It doesn't hold together. It isn't persuasive. The author lacked conviction, and the writing just isn't memorable. Where a story fails to realize its potential, the fault is likely to be in some aspect of the narrative, its meaning, or its truth. Even if the story is READ with care and skill, even if it contains essential TRUTH, "story" still falls short in some way. Although such stories are too readily available in bookstores, libraries and dollar stores, sadly this is also true of many inspirational picture books and novels. In trying too hard to communicate TRUTH, the author's care in storytelling falls short of richness, beauty and depth.
ILLUSTRATIONS
More than just images on a page, this is artwork that you and your children linger over because it is beautiful, meaningful, and enhance the story. The illustrator uses well-thought out techniques such as palette, line, proportion, and artistic media (watercolor, collage, oil, pencil, photography, etc.) to communicate greater emotion than is revealed by the text alone. ILLUSTRATIONS may be detailed and complex, like Rapunzel by Paul O. Zelinsky, or as simple as Mo Willems's expressive Elephant and Piggie series, provided that they enrich the reader's experience of the book. Neither the text nor the illustrations are complete independent of one another.
illustrations
Dippy pictures that accompany the text, but add nothing to it.
READING
Any active, skilled, memorable engagement with words or images that conveys worthy meaning to the reader or listener who absorbs them. The result of READING should include ideas or responses of one's own; i.e., something original to the reader occurs by means of the activity and the text or images which occasion the READING. Real READING is a kind of cooperative creation between one human and another, having some of the life of each. 
reading
A more or less passive and forgettable encounter with words or images that fails to bring one into any real contact with meaning or truth and resulting in no significant or lasting change in the reader and nothing original.
How does all this work together and become worship?
Discerning appreciation of literature, from picture books to lengthy classics, comes from learning to recognize these elements and how they resonate. There may be TRUTH told in story, or a STORY may only hold truth. TRUTH with STORY may suffer from mediocre illustrations, or truth conveyed in STORY may be greatly improved with ILLUSTRATIONS. All of these variations are greatly affected by the act of READING or reading, an act of redemption by those who seek to wonder and to worship God by offering up all our activities with our families in every area of life.
What books richly abound with Truth and Story? 
See also this post for a list Truth and Story picture books that are ideal for a church nursery.
Please follow and like us: