The Wimpy Kid phenomenon keeps on going, and so far has outlasted the dystopia phenomenon, the vampire phenomenon, and the zombie phenomenon.  Volume 8 in the series, Hard Luck, is set to release on Nov. 5 with a 5.5 million print run.  I reviewed The Third Wheel, Wimpy Kid #7, with observations on the genre and its imitators, last January.  But in light of even more imitators, most with the same less-than inspiring view of middle-grade boyhood, it's worth another look.
The portrayal of men as hapless clods, in TV sitcoms and commercials, has often been remarked.  In fact, I remember that observation being made as far back as the early sixties, with TV shows like Ozzie and Harriet and The Honeymooners.  Husbands in those shows were often bumbling, short-sighted blowhards or squishes (though somehow lovable), while their wives were stable, smart, and quick with a comeback.  Back then, such portrayals didn't seem to do any damage to the male psyche, unless it was a subtle undercurrent that slowly undermined self-confidence and left it vulnerable to feminism.  Overall, though, I think guys can generally take a joke better than the ladies can, and they laughed it off. 
The same may be true of boys who identify in some way or other with Greg Heffley, anti-hero of the Wimpy Kid series.  Whatever his faults, and they are many, Greg is funny.  Sometimes without meaning to be; much of the humor comes at his own expense, in the form of pratfalls and disasters he is too clueless to anticipate.  To the extent that Greg discourages boys from taking themselves too seriously, this is healthy.  But the last two years or so have seen a high tide of book series featuring middle-grade losers.  There's no other way to describe them: many are bumbling blowhards with no clue about their severe limitations.  Perhaps they are even early editions of the slovenly drains-on-society portrayed in Judd Apatow movies like Knocked Up.  The books have obvious boy-appeal, with their straightforward, journal-style narrative, liberal use of graphics and comics, and humor that verges on the gross.  But what kind of self-image does this plant in the heads of preteen boys?  And is that in itself part of the appeal?  Female "losers," like Nikki of Dork Diary fame, receive nowhere near the flattery of imitation—girls take themselves more seriously, which is good in a way and not so good in another. 
All the novels in this post have ridden on the success of the Wimpy Kid, and none of them are all "bad" or negative.  I would just suggest that you keep an eye on your boy readers—too many books on the same theme may eventually have an effect.  (In this post, Betsy reviews Zero Tolerance, and Janie the rest.)
Timmy Failure: Mistakes Were Made, by Stephan Pastis.  Candlewick, 2013, 295 pages.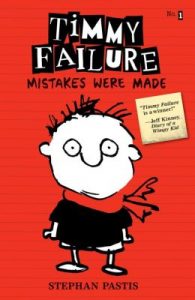 Age/interest level: 9-13
Stephan Pastis is the creator of the popular "Pearls Before Swine" comic strip, and Timmy Failure is hailed as a worthy successor to Greg Hefley: equally blind to his own faults and wide open to wholesome ridicule.  The spin on this character is that he fancies himself a shrewd detective (his motto: Greatness).  With his partner, a polar bear named Total, Timmy has established the world's greatest detective agency, Total Failure, Inc.  This sort of sets the tone for the series.  I really expected to like it more than I did.  It's funny, and sometimes rather touching, but here's the deal: Greg Heffley, for all the exaggeration, rings true.  Timmy doesn't.  He's so academically challenged he fills out test forms by making patterns of the ovals.  But he writes sentences like this: If Old Man Crocus was going to pair me with You-know-who, I had no choice but to throw myself upon the gears of the machinery and make the whole wretched process come to a halt.  This is humorous, as is his description of playing the odds on a test by answering a "Who was" question with Chang.  Because Chang was the most common last name in the world.  Besides useful test-taking tips, though, Timmy's world is so chaotic it's hard to get a handle on.
Clueless McGee and the Inflatable Pants, by Jeff Mack.  Philomel, 2013, 254 pages.  Age/interest level: 7-10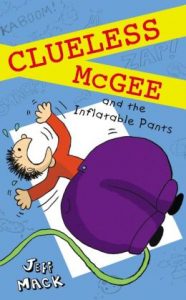 P.J. McGee also fancies he's an outstanding detective—like his dad, who seems to always be away on secret business.  What's up with that?  More than PJ knows, probably, but each chapter of his story is a letter to Dad, lavishly illustrated with cartoon drawings.  In his premiere outing (this is volume #2), he solved the mystery of the missing mac and cheese.  For this episode he must discover who stole the science fair trophy he was determined to win.  Was it the nerdy girl Sarah Bellum?  Or the school principal (and ninja instructor) Mr. Black?  Who just got new braces?  In the meantime he has to dodge Dante, the third-grader who thinks he's cool, and Benny, the rotund fourth-grader who's fixated on a superhero named Captain Big Boy.  Hijinks ensure, of course, including the titular inflatable pants.  The humor doesn't get too gross beyond booger jokes and PJ, though clueless, isn't as conniving as Greg or Timmy (not quite as funny either).
Cartboy and the Time Capsule, by L. A. Campbell.  Tom Doherty Associates, 2013, 204 pages.  Age/interest level: 9-13.
Cartboy, a.k.a. Hal Rifkind,  got his nickname courtesy of his dad's "solution" to the problem of a too-heavy backpack.  Dad, a repairer of small appliances (and a bit of an Ozzie or Ralph—see reference to 1950s sitcoms, above), finds a used wire shopping cart that should work fine.  Not the homeless-person kind of shopping cart; the old-person kind.  Either way, not cool.  Both parents are great at using up and making do, which is why Hal has to share a bedroom with his twin baby sisters—the other bedroom is Dad's workshop.  Dad is also a history buff and historical re-enactor, a subject whose charm is lost on Hal.  His history teacher Mr. Tupkin routinely gives him D's, but if he can bring up his grade, his parents might see about getting him a room.  Tutoring, girl problems, best-friend problems and bully problems take up most of the year, chronicled by the journal Mr. T is forcing everyone in the class to keep so they can put them in a time capsule for the year 2500.  Hal makes some droll observations and his timelines are humorous (e.g., Things People Have Done on Dates throughout History).  But the series feels unfocused and the ending is peculiar—is time-travel on the docket?  Also, there are a few vain mentions of God's name and Hal's mother seems way too interested in him getting a girlfriend.  In sixth grade?
Zero Tolerance (The Odd Squad #2), by Michael Fry.  Disney/Hyperion, 2013, 240 pages.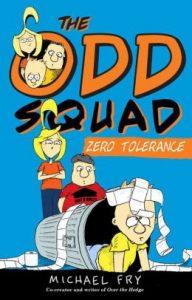 Age/interest level: 8-12.
The Odd Squad is back in this second installment: Nick, Molly, and Karl. All are misfits who have trouble fitting into middle school, and all three are now on the safety patrol. Nick is the voice of the series much like Greg the Wimpy Kid. The first Odd Squad book, Bully Bait, was stronger all around than most books in this genre, and Zero Tolerance is similarly strong. A new character, Simone, joins the cast, and Nick must deal with his jealousy of Molly's chumminess with Simone. In an effort to combat bullying, their school initiates a "zero tolerance" policy and Nick finds himself at risk for expulsion (even though he was in favor of the policy initially). In a crazy turn-of-events, all is made right at the end of the book, and Nick even learns to appreciate the folks he's hitherto scorned. A great series for those 10 year olds who love notebook novels, the Odd Squad is a little more well-rounded than most. The main character can be a jerk, like so many in this genre, but he often gets what's coming to him, and he matures a little in each book. There's plenty of slapstick humor throughout the book, and readers will chuckle, even while they groan in sympathy over Nick's various plights. Note that the mysterious, ghostly "Emily" also returns in this book as well as the Shakespeare-quoting, wise janitor, Mr. Dupree.
Jedi Academy, by Jeffrey Brown.  Scholastic, 2013, 159 pages.  Age/interest level: 9-13.
T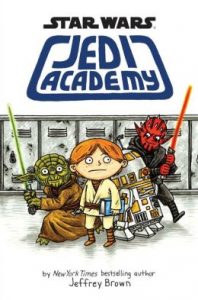 his one is a little different, in more ways than one.  A long time ago in a galaxy far, far away, there was a boy named Roan Novachez (that's me) who was destined to attend the Pilot Academy Middle School and become the GREATEST star pilot in the GALAXY.  Until everything went COMPLETELY and TOTALLY WRONG . . ."  Imagine the words scrolling back into a vanishing-point universe, and you've got the picture.  Like Luke Skywalker's, Roan's big plans for Pilot Academy are derailed.  But instead of a surprise hologram from Princess Leia, he receives a surprise offer of a place at Jedi Academy, where a wookie teaches P.E. and a Sith Lord teaches light-sabre technique (and home ec), and Master Yoda instructs students on wise use of the Force.  If parents can overcome their scruples about the new-agey aspects of the Force (which isn't taken too seriously here) Jedi Academy is a good-natured school story told in cartoons, journal entries, school newspaper pages, and comic-strip panels.  Even though he doesn't always put his best foot forward, Roan isn't really a "loser" in the same sense as Greg and Timmy and Clueless.  New friends and enemies, academic struggles, field trips, spring break, and a final triumph describe a familiar arc, with sly jokes and references adding extra pizzazz for Star Wars fans.  It won't be near as much fun for non-fans.  The story ends with tips for starting your own journal, which some readers may actually be inspired to do.  All to the good.

So, what would we recommend for boys to balance out the middle-grade loser syndrome?  Glad you asked!  You can start with our post on "Stalking the Elusive Boy Reader" and follow the links, then check out our review of The Charlatan's Boy and Andrew Peterson's Wingfeather Saga.  For fun, I like the Brixton Brother Detective Series and the revival of Chitty Chitty Bang Bang.  Older boys can't go wrong with Andrew Klavan's YA thrillers: see our review of his latest, and follow the links.  And (also for older boys) be sure and  check out N. D. Wilson's Ashtown Burials series, the latest of which Betsy reviewed recently.  Finally, if you're wondering about Tom Angelberger's popular Star-Wars-based middle-grade series, see our review of The Strange Case of Origami Yoda.

More than 75 books for children and teens, all about islands, oceans, and more. Bonus: get a free hand-drawn reading tracker!
Reading Ahead for You
Reviews and Resources Weekly in Your Inbox