Every holiday season brings forth a crop of shiny new picture books, and we're on the beat. Today, two for Thanksgiving and two for Christmas–the more secular side of Christmas, but we plan to tell you about more Christ-centered ones as the season approaches.
Giving Thanks: Poems, Prayers, and Praise Songs of Thanksgiving, by Katherine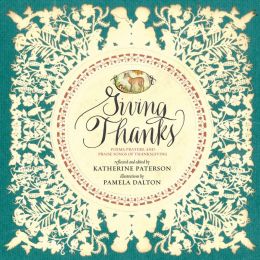 Paterson, illustrated by Pamela Dalton. Chronicle Books, 2013, 56 pages. Age/interest level: 6-up.
Paterson and Dalton, last seen together in the pages of Brother Son, Sister Moon, join forces again for this collection drawn from "faith traditions" all over the world. Though beautifully designed and produced, Christian parents will find it a little problematic to find Islamic praises and Pueblo blessings among the Christian ones. Katherine Paterson, a beloved figure in children's literature, grew up in China with her missionary parents and married a Presbyterian pastor, so her background is of a very distinctive faith tradition. So is this collection; most of the contributors are Christians past and present, including the Bible. Paterson's introductions, for the whole book and for each of its sections (Table, Life, Spirit, and Community), explore the value of praise and thanksgiving, the sanctity of life and beauty of small things, the blessings of fellowship. Her key text is from George Herbert: "Thou that hast given so much to me, give one thing more–a grateful heart." Many of the writers echo biblical truth, whether they know it or not (see for instance "Blessing of the Stew Pot," by one of the first female priests of the Episcopal Church, which bears comparison with Psalm 105). Pamela Dalton's scissor-cut illustrations, leaning toward harvest themes, birds, and butterflies, are as striking as ever, though not quite as colorful as in Brother Son, Sister Moon or The Story of Christmas. Giving Thanks may well be a book worth owning, but I suggest you look it over first.
Worldview/moral value: 4

Literary/artistic value: 5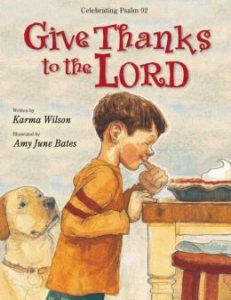 *Give Thanks to the Lord by Karma Wilson, illustrated by Amy June Bates. Zonderkids, 2007, 24 pages. Ages/interest level: 4-8.
One of my [Megan's] favorite titles is by Karma Wilson (author of the delightful Bear Snores On and its sequels). She beautifully weaves Psalm 92 as a theme into a Thanksgiving family celebration. Told in rhyme from the perspective of a young boy, the reader is constantly reminded that "It is good to give thanks to the Lord!" The illustrations are very nicely done, showing the joys of family relationships and childhood pleasures, from leaf piles to olive-tipped fingers and finding the wishbone. An excellent companion to historic books about the pilgrims, who also gave thanks to the Lord. Originally published six years ago, there's a new paperback version out this year.
Worldview/moral value: 5

Literary/artistic value: 4
Little Santa, by John Agee. Dial, 2013, 40 pages. Age/interest level: 2-8.
"Ever wonder what Santa was like as a child?" Probably not, especially if you're a parent who plays down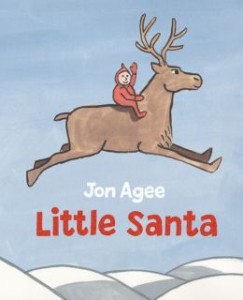 the Santa Claus aspect of Christmas. Unfortunately (or not), in the two new Christmas books we're featuring today Santa figures prominently–but that's not necessarily bad, as long as Mr. Claus and his bag of goodies doesn't take center stage all through the season. And Little Santa is so darn cute I can't take issue with it. John Agee captures the four-year old imagination perfectly by picturing the protagonist as a little boy in red footie pajamas whose first name is "Santa." He's the youngest of seven children and the only cheerful soul in a gloomy family who make their home in the North Pole. Santa loves the North Pole, in spite of the demanding climate, but when his parents decide to move to Florida he stops smiling. However, while packing up for their move the Claus family is snowed in by a blizzard. What to do? Their youngest member's talent for navigating chimneys saves the day, especially after he rescues a flying reindeer and recruits a colony of elves to help. Little ones will love seeing the basic elements of Santa lore fall in place, and grownups may not be able to stop smiling.
Worldview/moral value: NA

Literary/artistic value: 4.5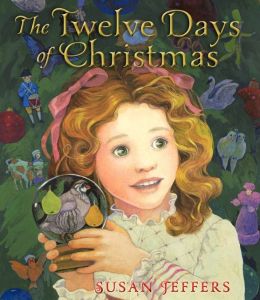 The Twelve Days of Christmas, by Susan Jeffers. Harper, 2013, 32 pages. Age/interest level: 4-8.
"On Christmas Eve, when everyone was sleeping, I tiptoed to the closet and found a present from Santa." Our heroine, Emma, drawn in a style reminiscent of Kate Greenaway, accidently breaks the object. Like Clara in The Nutcracker, she falls asleep with the gift (it has something to do with a partridge in a pear tree) cradled in her arms, and has a dream–or is it a dream? In framed panels like turn-of-the-century Christmas postcards, Santa appears in her house and offers her a ride in his fabled sleigh. On their magical trip, the jolly old elf bestows the other numbered gifts in the song while he and Emma fly through the air. Part of the fun is spotting how the turtle doves, French hens, calling birds, et al., rearrange themselves from page to page. On the final page spread, where Emma celebrates Christmas day with her family, all the gifts are displayed as ornaments on the tree. The story is thin, but the pictures are what it's all about anyway.
Worldview/moral value: NA

Literary/artistic value: 4
We've reviewed lots of Thanksgiving books in our few years, both excellent and praiseworthy, and not so much: see Emily's post on "Thanksgiving! Books for Kids 10 and Under" and last year's "Picture Books for the Season." Pilgrims-and-Indians get more than fair treatment from Cheryl Harness in her Three Little Pilgrims and her biography of Miles Standish, reviewed here. As we approach Thanksgiving, be sure and give a listen to our podcast with Susan Hunt on "Raising Thankful Kids." For a fun project, make your own Book of Thanks with help from Emily's .pdf download.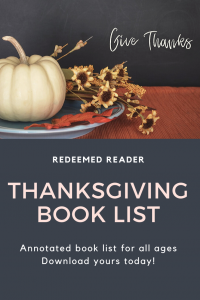 Download a free annotated list of our favorite Thanksgiving books here!
We are participants in the Amazon LLC affiliate program; purchases you make through affiliate links like the one below earn us a commission.
More than 75 books for children and teens, all about islands, oceans, and more. Bonus: get a free hand-drawn reading tracker!
Reading Ahead for You
Reviews and Resources Weekly in Your Inbox