Flood, by Alvaro F. Villa.  Capstone, 2013, 32 pages. 
Reading Level: Picture books, ages 4-8
Recommended for: ages 8-10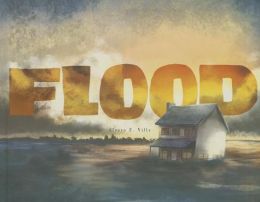 It's hard to imagine rain doing flood-level damage, especially in Midwestern settings where farmers generally struggle more often with drought.  This book will give kids who have never experienced a flood a good idea of the devastation suffered by an ordinary family whose home sweet home—full of memories, pictures, and personal touches—is destroyed by water.  In one two-page spread the house seems to recoil in terror from the furious storm headed its way.  The family's helplessness increases as they pile up sandbags, pack up their vehicle and leave their home to the mercy of the elements.  But the elements appear to have no mercy—the double-page depiction of water smashing into the house could be genuinely scary for small children, causing them to fear heavy thunderstorms for months thereafter.  Older kids however can be taught to appreciate the varieties of weather and the awesome Power behind it all (see Job 38:25-30).
Cautions: Visually Problematic (some pictures may be frightening for young children)
Overall rating: 3.75
Worldview/moral value: 3.5
Artistic value: 4.0
Categories: Picture Books, Wordless, Nonfiction, Science
Please follow and like us: