The Reluctant Assassin (W.A.R.P., #1), by Eoin Colfer.  Hyperion, 2013, 352 pages.  
Reading Level: Middle grades, ages 10-12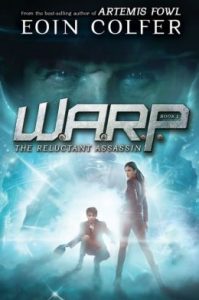 Appropriate for: ages 15-up
Bottom Line: This new time-travel series from the author of Artemis Fowl offers plenty of pulse-pounding action but distasteful situations and characters.
London is a harsh place in 1899, especially for an orphaned boy apprenticed to an assassin.  Even worse, Riley's master is the sinister magician Albert Garrick, who launched his career in crime after sawing his beautiful assistant in half—for real.  He would not hesitate to do the same to the boy if Riley doesn't carry through on his first murder.  But the mark, as it turns out, is no ordinary mark but a scientist who has discovered the secret of wormhole time travel.  Before he dies, he pulls both master and apprentice into the future—that is, the present, where teenage FBI agent Chevron Savano is wondering what kind of detail she's been assigned to. It's called W.A.R.P. for Witness Anonymous Relocation Program.  Basically witness protection—except, as she will soon discover, it involves hiding top-secret witnesses where they will (supposedly) never be found: in the past.
This doesn't make much sense—everybody knows that going back in time and meeting your own ancestors will totally wreck the space-time continuum.  Didn't anybody involved in this FBI program see Back to the Future?  Disbelief aside, it does make fast-paced adventure of the Colfer sort—snappy dialogue, Dickinesque characters and a hefty slice of old London life.  It's also quite violent, with drawn-out passages of (non-graphic) unpleasantness and less good will than the author's Artemis Fowl series.  I also had a hard time warming to Chevie, who (we are told in our introduction to her) hates the story of the Prodigal Son because the bad boy gets all the goodies.  If you liked Artemis Fowl, you may not like this.
Cautions: Violence
Overall rating: 3.5 (out of 5)
Worldview/moral value: 3

Literary value: 3.75
Categories: Young Adult, Science Fiction, popular
Please follow and like us: