***THE GIVEAWAY PART OF THIS POST IS OVER. ***
ENDER'S GAME POSTS: Introduction, Week 1: Sci-fi and Orson Scott Card, Week 2: Ender vs Peter, Week 3: Science of the Story, Week 4: Conclusions
Also, see our Sci-Fi Writing Contest for Teens and our Sci-Fi Podcast Discussion coming soon.
WHY READ ALONG?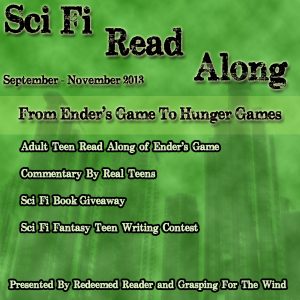 Ender's Game (The Ender Quintet) by Orson Scott Card.  Tor Science Fiction, 1985.  352 pgs.  Ages 15 and up.
As many of you know, the first book of Ender's Game by Orson Scott Card has been adapted to the big screen, and it will be hitting theaters on November 1.  What does this mean to you, dear reader?
First, Ender's Game is a classic sci-fi text that has earned its place in the sci-fi canon, and influenced writers and genres ever since its publication in 1985.  That includes the YA sci-fi and fantasy craze of recent years, and, as we'll explore, the Hunger Games trilogy which dominated YA book sales in 2012.  So, Ender's Game is relevant to young readers today for its own sake as well as the way it is present in current YA and adult books.
Second, because sci-fi has grown in popularity in the last decade, it's worth a little extra scrutiny by parents and teens.  We've invited John Ottinger III, editor of the sci-fi/fantasy review website Grasping for the Wind, to help us explore questions like these: What is sci-fi all about?  Why should Christians care about it?  How can young Christian readers benefit from Ender's Game, as well as the genre generally?  What should young readers be wary of?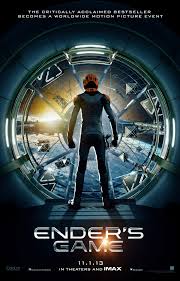 Third, with Ender's Game and the second Hunger Games movie hitting theaters in November, now is the time to get educated!   People are going to be talking about the books and movies perhaps more in the next few months than every before–why not join our read along and put it to use for the gospel?  Not only do we hope to strengthen your hope in Christ through this read along, but, Lord willing, we hope teens and adults will be better equipped to talk their friends and neighbors about the worldview and gospel implications.
ONE CAUTION: Ender's Game is a book that contains violence as well as some offensive language.  It also contains intense, suspenseful situations that won't be appropriate for some readers.  We would recommend the book for ages 15 and up, though parents and educators will want to judge its appropriateness for young readers on an individual basis.
GALACTIC GIVEAWAY: Sci-Fi Starter Pack

Our guest host, John Ottinger, is both a sci-fi reviewer (for his own site and World Magazine) and an educator for classical homeschoolers.  (You can check out his classical website here.)  In other words, he knows the impact books can have on young minds.  And that's one reason we invited him to create a Sci-fi Starter Pack for teens and adults.  If you haven't really spent much time reading sci-fi, these books will help you get your foot in the door…and even if you don't get converted into a full-fledged sci-fi fan, hopefully they'll help you appreciate and understand the genre.
While we'll only be reading Ender's Game for this read along, we will give away one complete set of the CORE SCI-FI TEXTS below.  Please note that these books almost all contain violence and language inappropriate for some young readers, but they also contain other redeeming qualities that make them appropriate for most teens over 15:
CORE SCI-FI TEXTS
1.  Ender's Game (The Ender Quintet) by Orson Scott Card
2.  Foundation (Foundation Novels) by Isaac Asimov
3.  Fahrenheit 451: A Novel by Ray Bradbury
4.  Out of the Silent Planet (Space Trilogy) by C. S. Lewis
5.  Trading in Danger (Vatta's War) by Elizabeth Moon
6.  Divergent by Veronica Roth** (Since this post was originally created, the final book in this series has come out.  It contains much more sexuality and other problematic content than earlier books in the series, so we definitely don't recommend it for young teens and we encourage older teens and adults to use discretion.)
Here's a printable list with notes for readers who want a printable version to take to the library: SCI-FI STARTER PACK READING LIST.
HOW TO ENTER
Just tell us your favorite sci-fi book or movie character in the comments, and you'll be entered to win!  (And yes, Luke Skywalker and E.T. count…so there's a fallback if you can't think of anyone else!)  We'll announce the winner next Saturday, Sept 21!
READ ALONG DATES
Sept 14: Announcement and invitation
Sept 28: Chapters 1-4
Oct 5: Chapters 5-8
Oct 12: Chapters 9-12
Oct 19: Chapters 13-15
Nov 1: Writing Contest Begins
Nov. 2o: Finale Podcast
TEEN WRITING CONTEST & SPECIAL GUEST?
To keep up with our read along, please sign up for our biweekly newsletter on the right hand side of the homepage.  You can also like our Facebook page or follow our Twitter feed.  Each Saturday during the read along John and I will discuss portions of Ender's Game with real teens.  We'll include discussion questions for you to extend the conversation with your friends and family.
And our special guest?  That will be announced around the time our Writing Contest begins, as we lead up to the Hunger Games release in late November.  We hope to have a really fun finale that will enhance your experience both of the Ender's Game movie as well as give you insight on the new Hunger Games movie.
So, for now, welcome to our Ender's Game read along!  If you're new to our site, be sure to check out Redeemedreader's previous coverage of The Hunger Games book and movie.  You might also like to see our Top 10 Posts of 2012.  We've also done a number of read alongs before if you're interested in using those for personal or academic reading, including The Hobbit and C.S. Lewis's That Hideous Strength.
One more thing: a big thank you to college student Kelsey Schoeppler for creating the Sci Fi Read Along image for us!  Great work, Kelsey!
Support our writers and help keep Redeemed Reader ad-free.